Kidderminster Harriers: the late-goal kings who keep stealing the show
Last updated on .From the section Football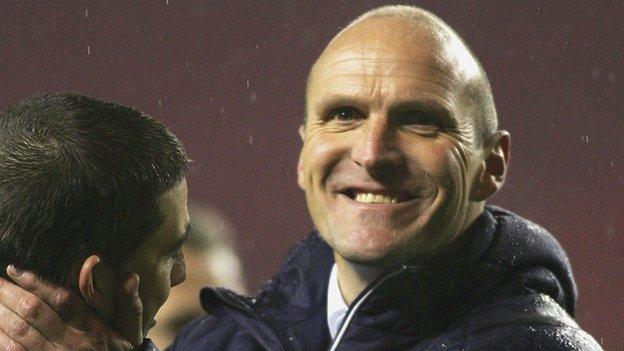 The fact that Kidderminster Harriers share the same colours as Manchester United always seemed mere coincidence.
But this season, especially these last few weeks, Harriers have been sharing a talent for which United are also justly famous - late, late goals.
Harriers' last three Blue Square Bet Premier games were won in injury time.
And boss Steve Burr admits: "With the number of games in which we've scored late this season, you do get that feeling you're still going to win."
Easter Monday's Nick Wright-inspired 3-2 win over Newport County, having been two down with four minutes left, stole the show.
Having coolly struck home an 86th-minute penalty, the Harriers 'supersub' went on to net twice more in injury time.
"Nick Wright's hat-trick took the headlines," said manager Steve Burr. "He became the hero and, when you see it again on the video, you can see why. He took his goals very well."
But, although this Bank Holiday Monday Great Escape had the lesser-known Nick Wright rather than Steve McQueen as its star performer, Burr also admits that the final outcome did not totally shock him.
"It was an unbelievable end," Burr told BBC Hereford & Worcester. "Games like that don't happen very often and the emotions are hard to describe unless you were actually here. But, at 2-0 down at half-time, I thought that, if we did score, then we could go and get something.
"I'm not sure I still thought that with 86 minutes gone, though. And, even when the second went in, I was still thinking at least we've got a point.
"But when the fourth official held up the board saying 'five minutes', I had thought we might get another opportunity, and we ended up getting two."
For the sake of the Harriers' fans' health, it might be kinder if Burr's men could wrap things up a little quicker in the Blue Square Bet Premier play-off chasers' final three games.
That trio begins with Saturday's home test against relegation battlers Kettering, followed by games against promotion rivals Luton and Mansfield.
But Burr is at least assured that his side have the stamina - both physically and mentally - to keep going.
Harriers' current run of late goals started with Ryan Rowe's 89th minute strike in the 3-1 win at home to Darlington before he struck in injury time to earn the following Saturday's 2-1 win at Grimsby.
Then came another injury-time winner from Luke Jones at Southport on Saturday before Monday's astonishing turnaround against Newport.
But it was not the first time this season that the Harriers had been on such a run of late goals.
Back in January, they hit late goals in four successive games, starting with two injury-time strikes from Jamille Matt and Wright to beat Hayes 3-1.
An 80th-minute Wright penalty then failed to prevent them losing 2-1 at Gateshead, but two more injury-time strikes from Anthony Malbon and Matt claimed a 2-0 win at Alfreton before an 85th-minute James McQuilkin equaliser earned a draw against York City.
And Burr suggests that, just like the men from Old Trafford, it is all down to faith and fitness.
"My lads are very fit," he said. "We've prided ourselves all season on our fitness.
"But they also have that belief. They keep going to the final whistle.
"They've really shown over the last month just how strong they are. And the keep showing their character."
Now the Harriers just have to prove, over their final three games and hopefully into the play-offs, that they can finish the season like they are finishing their games.