Rangers: Administrators say Brian Kennedy's verbal offer is invalid

By Chris McLaughlin
Senior Football Reporter, BBC Scotland
Last updated on .From the section Football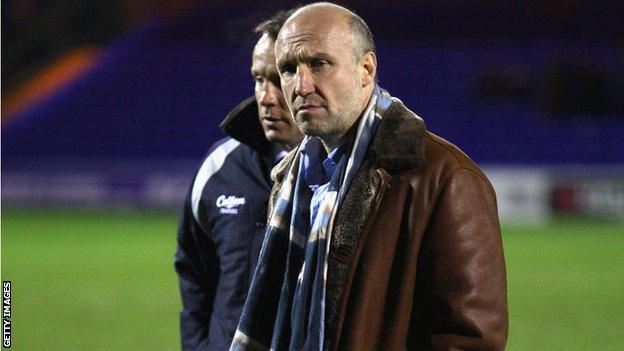 Rangers' administrators Duff & Phelps say Brian Kennedy's revised verbal offer to take control of the club "would not be capable of acceptance".
A Duff & Phelps spokesman said: "We are surprised by the coverage surrounding a revised bid by Brian Kennedy.
"We have not received a written revised offer and [have] informed Mr Kennedy."
Meanwhile, Duff & Phelps "have made it crystal clear" to prospective buyers that they need "unconditional bids" before naming a preferred bidder.
Joint administrator David Whitehouse said: "It is important to let fans know that at this stage there is a world of difference between people indicating their intentions - even though they are well meaning - and putting them in black and white.
"We understand there are complex issues for bidders to deal with and we do not doubt that all parties want to attain control of the football club. We understand also that those interested in buying the club are working hard to resolve all outstanding issues.
"We are continuing to make representations to all stakeholder groups - including the football authorities - to give clarity on outstanding issues which will help existing bids move to unconditional status.
"We have had a series of constructive discussions with bidders. We have made it crystal clear to them all that to announce a preferred bidder we need definitive, unconditional bids on the table."
Sale Sharks owner Kennedy, who had an earlier bid rejected, said on Wednesday he had made an "improved offer" after holding informal talks with Duff & Phelps.
He had previously indicated he would not return to the bidding process whilst Paul Murray's group remained in the frame.
However, as .
These are from American Bill Miller and a Singapore group led by Bill Ng.
The Blue Knights, with Ticketus as a partner, had appeared to be the front-runner to take the club over and they had hoped to be named as preferred bidder on Friday.
They were asked to provide a £500,000 non-refundable deposit for exclusivity and
And he added it had become clear Ticketus had agreed a "substantially" better deal with Ng's group of investors.
Ng denied any such deal had been reached with the firm that financed Craig Whyte's takeover of Rangers last year, but he remained hopeful that his bid would win.
A spokesman for Ticketus, who have rights to £27m of season ticket revenue at Rangers' Ibrox Stadium for the next three seasons, told the Press Association on Wednesday: "Despite some reports we have been talking to Paul Murray by phone on and off since Monday, we are still talking about a possible joint bid.
"We are also still in discussion with the Singaporean bidders."
Both Murray and Ng wish to attempt an exit from administration by way of a company voluntary arrangement, while it is understood Miller's preference is for Rangers to emerge as a "newco" through liquidation.