SFA referee head John Fleming upset by Charlie Richmond claims
Last updated on .From the section Football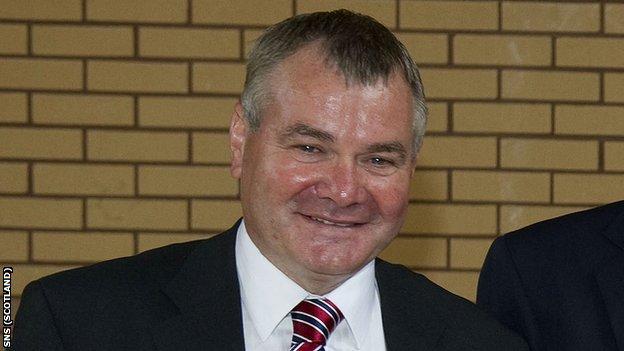 Head of referee development John Fleming says former grade one official Charlie Richmond's recent comments are "an affront" to the Scottish FA.
The former whistler also suggested good referees were being overlooked.
"To say I am disappointed by Charlie Richmond's comments is an understatement," said Fleming.
"Charlie claims he lost the support of the 'decision-makers' within the referee committee yet was reintroduced to the Clydesdale Bank Premier League this season after a prolonged period of performance management.
"This involved one-to-one discussions and appointments outwith the Scottish Premier League in an effort to rebuild his confidence.
"It is curious that Charlie did not see fit to air these grievances while he was officiating in Uefa and SPL matches.
"Over the past few seasons he made a decreasing effort to attend referee association meetings and training sessions. Charlie has also failed to attend our winter training camp - vital for mid-season debriefing and discussion - for the past two seasons.
"While many of his complaints appear to be historic, I consider his comments an affront to the work currently undertaken by the Scottish FA to promote and support referees at all levels.
"I am sure there will be plenty of Charlie's former colleagues who will feel misrepresented by his comments."
Richmond had said: "The cream should always rise not because you move in the right circles.
"If you lose the support of the decision makers and some of your colleagues then it's time to walk away."
But SFA chief executive Stewart Regan rejected claims of cronyism, tweeting: "Referee appointments are based on performance. Would prefer to see consistent under performers 'retire' without feeling need to blame others."
And John McKendrick, chairman of the Scottish Senior Football Referees Association, added it was "deeply offensive" to suggest "referees are getting where they get to not on the basis of their ability".
However, McKendrick described Regan's response as "unhelpful".
"I don't think it's at all helpful for us to deride the contribution of recently retired referees," McKendrick told BBC Radio Scotland's Sportsound.
"Above all, what I'd like people to remember of Charlie Richmond was [that] he was one of Scotland's top referees.
"He was a top class official, both at home and abroad, and that's the point that the SFA, with the passage of time, will be communicating."