Fulham chairman wants changes to the refereeing review system
Last updated on .From the section Football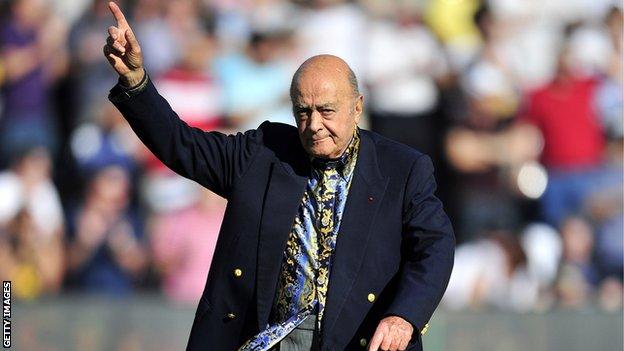 Fulham chairman Mohamed Al Fayed is the latest football figure to criticise the current standard of refereeing in the Premier League.
He has written to the Football Association and Premier League seeking an immediate review, which he says is on behalf of all clubs.
"It is time for the Premier League to wake up. They have been in a coma for a long time," he said.
"Lots of clubs are suffering from such stupid decisions."
Al Fayed's comments come after Fulham suffered a 1-0 loss at Manchester United last month, in which Danny Murphy appeared to be fouled in the United box a minute from time but referee Michael Oliver waved away the penalty claims.
In a statement published on the club's official website, Al Fayed said: "The FA's problem in addressing this pivotal situation is that it has too much power.
"Where else can decision-makers (referees) escape all responsibility to admit serious and blatant errors and have the protesters (the football clubs involved) fined on charges of misconduct.
"Once again I call for action to review the standard of officials, and the transparency of the processes by which referees are allocated to games."
The Egyptian businessman joins Queens Park Rangers manager Mark Hughes, Wigan boss Roberto Martinez and Brighton's Gus Poyet in criticising refereeing standards.
"We need brave pioneers in the Premier League, the FA and within the Premier League shareholder group," Al Fayed added.
"In the past I wrote to highlight the need for the Premier League to lead the way with the introduction of video technology."