Derek and George Adams praise 'brave' Ross County chairman
Last updated on .From the section Football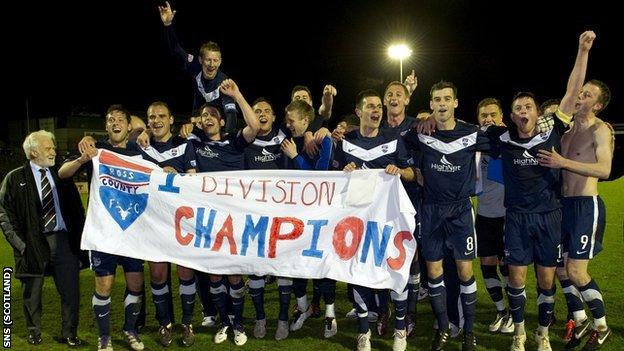 Ross County manager Derek Adams and father George, the club's director of football, praised their chairman after winning promotion to the top flight.
And both Adams paid tribute to Roy McGregor, the driving force behind the manager's return to the club last year.
"He had a wee bit of bottle to take me back," said Derek Adams after the 3-1 win against Ayr United.
And George, who revealed he played no part in bringing his son back to the club from Hibernian to avoid any conflict of interest, added: "It was purely Roy McGregor, no-one else.
"Two major decisions Roy made in the six years that I've been at the club: one, when we got relegated, he kept us full-time and the second one, he went out on a limb and took Derek back.
"It took a wee bit of guts to do that. He's got a lot of things but the one thing he's got is guts."
County will now start planning for their SPL debut next season, with improvements planned to Victoria Park and changes to the squad expected.
"There's a lot to be done," said George Adams. "Obviously the building side's got to be done but we've got to build a team again.
"There are quite a lot of the guys here that'll be able to take the step up. We're going to have to bring in new players.
"Naturally, there are some guys that'll leave. Michael Gardyne goes to Dundee United; that's one before we even start.
"In the next three or four weeks we'll be looking to try to add to the squad for next season.
"We realise it's a different journey that we're on now. We've got to the promised land, we want to stay in the promised land.
"It's now up to us to us to stabilise and really try to be competitive; go there and make a good account of ourselves."
Of County's win at Somerset Park, the manager added: "It was a good night for us. It was important that we came here and won the match and put on a good performance.
"I'm proud. I'm delighted for the players. They epitomise what Ross County Football Club's all about, a togetherness and a courage and a desire."