SPL: Decision on top flight's voting structure delayed

By Chris McLaughlin
Senior Football Reporter, BBC Scotland
Last updated on .From the section Football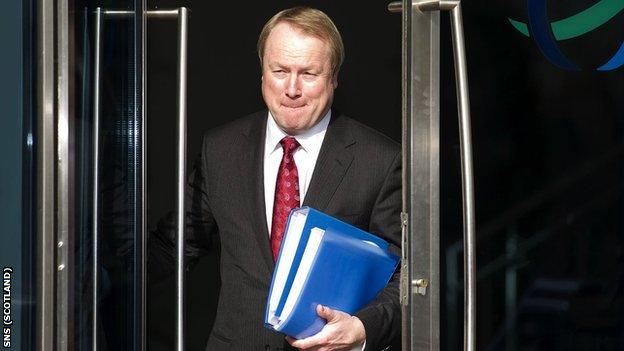 The Scottish Premier League has delayed a decision on proposed voting reform until 30 April.
A vote was expected when the SPL board arranged a meeting for Thursday after 10 clubs called for the 11-1 majority for major changes to be reduced to 9-3.
Celtic are firmly opposed to the suggested alteration and Rangers' administrators are likely to support the SPL champions on this issue.
Clubs did agree to the formulation of a new Under-20 league.
SPL clubs will also consider new proposals for financial fair play at the 30 April gathering.
Earlier this month, SPL chairman Ralph Topping claimed that two potential sponsors have pulled out because of recent events and bad publicity.
Topping urged the 10 clubs to withdraw their attempt to change the voting structure, suggesting it is damaging its commercial future.
The topic will be debated further at Thursday's meeting. However, Kilmarnock chairman Michael Johnston said the non-Old Firm clubs will not abandon plans to push through change.
"We're certainly not giving up on it," he said.
"It remains to be seen what happens with Rangers, who the preferred bidder is going to be.
"Hopefully there will be some constructive talks about the voting structure when that is known.
"I think it's the majority of the clubs who are behind the move to change the voting structure. That remains on the table."
Asked how the 10 clubs intend to push through the changes when a 11-1 vote is needed to scrap the current voting structure, Johnston said: "Hopefully through gentle persuasion and the fact that we are looking for a more democratic process.
"That should appeal to anyone.
"I don't think anyone should be worried about having a 75% majority to make major decisions.
"I think it's a perfectly good, sound proposal and there's nothing undemocratic about it.
"It's not going to cause any major worries for anyone who has the best interests of Scottish football in mind."
There was agreement at Thursday's meeting, with clubs unanimously approving the introduction of an Under-20 league from next season.
"Providing the right platform for developing young Scottish players is vital," said SPL chief executive Neil Doncaster.
"Working in conjunction with the Scottish FA, I would hope this goes someway to reducing the development gap between the current Under 19 League and the Clydesdale Bank Premier League to better equip young players for the demands of first team football and aiding the development of more and better young Scottish players for the Scotland national team."