Southampton and Reading set for Championship battle
Last updated on .From the section Football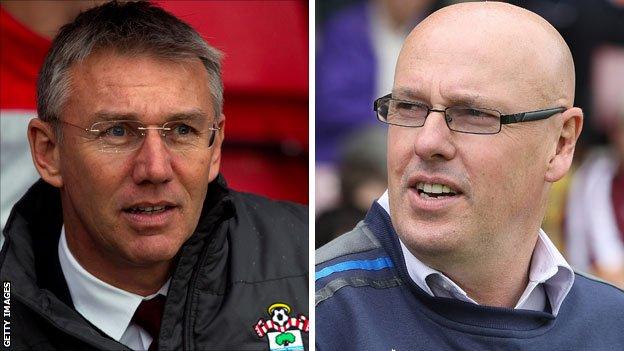 Southampton boss Nigel Adkins is refusing to hype up the clash with fellow leaders Reading saying victory does not guarantee promotion.
Saints host Championship co-leaders Reading at St Mary's Stadium on Friday.
"After Friday there are still three to go," Adkins told BBC Radio Solent.
His counterpart at Reading, Brian McDermott, said he is relishing the game, adding to BBC Berkshire: "It's a sell out and we'll have a big following so we're looking forward to it."
The Southampton boss is full of praise for the job McDermott has done at Reading, especially considering the poor start they made to the season.
"It's a long campaign and you have to give great credit to Brian McDermott and everyone at Reading because they have narrowly missed out last season at Wembley and sometimes there is a bit of a hangover," he said.
"They lost a couple of players but have regrouped and they have put together a consistent run and that is why they are with us at the top of the division."
Southampton's manager says that despite being so close to the finishing line, they will continue their philosophy of taking it one game at a time.
"You can liken the season to the Grand National," said Adkins.
"It's a long race, but all you can do is take it one fence at a time, keep jumping the fences when they come about and move onto the next fence.
"You have to concentrate on what you are doing and remain consistent. And when the final whistle goes we will look at where we are and we will deserve to be there.
"We just take it one game at a time. It's a simple analogy but it works. We just want to put a smile on the supporters faces and get this club back where it deserves."
Adkins added: "I'm just in the here and now and am just focussing on what we can control. We are fit and healthy and are enjoying it and are trying to be the best we can be."
McDermott has highlighted 30-goal striker Rickie Lambert as Southampton's main threat and said he is also not looking beyond Friday's game.
"We look to the strengths we have and we will look to play to those strengths and respect the opposition," said McDermott.
"Rickie Lambert's threat speaks for itself, he has got lots and lots of goals this season.
"To be fair to him he has come up through the leagues and you have to have the utmost of respect for him.
"There are a lot of scouts out there that watch players and I think they spend too much time looking at what players can't do and as a scout myself I look at what a player can do."
But on the possibility of winning promotion, McDermott added: "I am not looking that far ahead, I am just looking at the next game."
The Reading boss also admitted the race for promotion was proving to be emotionally draining.
"I wouldn't know if it is taking its toll," he said.
"You try to focus on what you have to do and try and leave your emotions behind.
"That's difficult sometime because it is an emotional game that we're involved in. Unless you've stood on that line it is difficult to describe and I am lucky to have a great staff and Nigel Gibbs next to me."