Off The Bawl - 7 April
Last updated on .From the section Football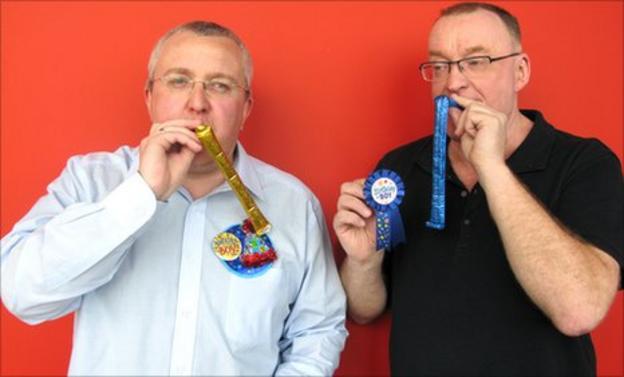 Greeeeeetings!!! And welcome to a special bumper edition of Off The Bawl as we look back on the most petty and ill-informed texts and emails on radio from the past two editions of OTB.
We start with Off The Ball from Saturday, 31 March when one of our guests was the former Dunfermline manager Jim McIntyre.
"All the best for the future Jim," said one of our first emails, "and thanks for everything you did at the Pars." That came from Hibs boss Pat Fenlon.
Nah, only joking, it was actually from a nice Dunfermline diehard called Bill.
Football trivia is a regular feature on Off The Ball and Tam provoked a bit of debate when he asked who could name the first ever substitute in Scottish football.
John Buchanan in Paisley reckoned it was Davie Weir in 1954, but we eventually got the right answer from Neil in Falkirk who said: "It was actually the great Archie Gemmill in his early days with St.Mirren."
However, the best bit of correspondence on this matter came from Ron in Glasgow who said: "My Uncle Matt Monaghan who managed Arthurlie back in the 1960s always claimed Sammy Cairley was the first sub. In the days before substitutions had been introduced, Andy Cairley (Sammy's twin brother) was pole-axed by a knee to the head and carried off. Matt grabbed Sammy out of the crowd, bandaged up his napper in the dressing-room and sent him on in Andy's place. The referee and the opposition players never suspected a thing!"
The Titanic XI
(aka Hull City)
Stadium: Women and Children Firs Park
Club Owner: Craig Whyte Star Line
1/ Peter McCloy (The Girvan Lighthouse)
2/ Dougie Bellfast
3/ Henning 'Ice' Berg
4/ Tommy Rubber Ring (c)
5/ Celine Dion Dublin
6/ Shaun McSwimming
7/ Leonardo di Canio
8/ James Beattie (should never have left Southampton)
9/ Jan Vennegoor of Vessel-sink
10/ Sone Aluko (goes down very easily)
11/ Maiden McGeady
Subs: Willo Flood, Santa Cruz, David Seaman.
Meanwhile, on last week's show (7 April) we were joined by the legendary former Motherwell boss Tommy McLean, Players' Union chief Tony Higgins and Rangers' Nine-in-a-Row skipper Richard Gough.
As regular listener Garry summed it up: "Today's three guests, coupled with Tam and Stuart, make up two hours of perfect radio."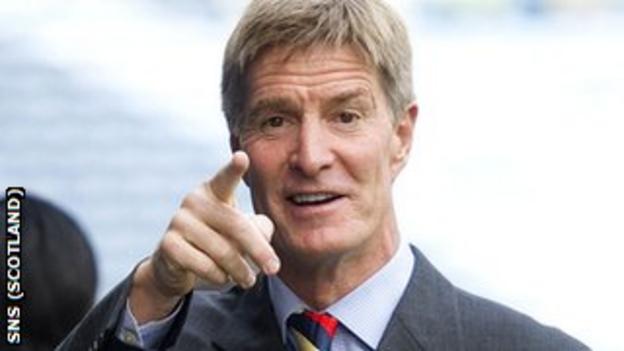 Cheers, mate, but nobody likes a crawler...
An early anonymous email from the Tayside region asked: "Does Richard remember the Dundee Social Club many years ago and the stripper with Jim Duffy? While Richard, always the model professional, remained fully clothed, I'm sure Jim was reduced to his drawers."
Sadly for Mr Duffy, we can confirm that, yes, Richard could indeed recall that colourful afternoon.
Following a story on superstitions from Richard - apparently Ian Ferguson refused to get off the Rangers team bus until he'd seen two magpies - Stephen from Bothwell emailed to say: "I've just seen a magpie in my garden going round in circles looking for two Ian Fergusons...!"
That name sparked another bit of trivia. We could recall three Ian/Iain Fergusons who played senior football in Scotland, but what is the most number of players who have shared the same name?
Well, we got a text from Nick the Buddie who said: "There are four Stephen/Steven Thompsons in the SPL at the moment - three players and the chairman of Dundee Utd."
Oh, and as The Dumfries Doll quite rightly pointed out: "There were two Andy Gorams!"
Staying with trivial matters, the Singapore tycoon linked with Rangers - Bill Ng - left us wondering if anyone in Scottish football had a surname with no vowels.
Bob in Peebles quickly emailed to say: "What about former Rangers player Robert Prytz and Spartans midfielder Jason Kydd?"
And Derek in Glasgow found a player with six letters in his surname and not one vowel - the former Alloa, Brechin, Falkirk, East Stirling and Stenhousemuir stalwart Charlie Lytwyn.
Meanwhile, Jim in Netherlee said: "Maybe I didn't hear him properly, but I'm sure Simon Stainrod once claimed that Ian McCall cleared out his vowels..."
One other little bit of trivia on this week's Off The Ball Sunday Supplement, courtesy of Celtic fan John Kelly from Erskine. He said: "Against Kilmarnock at Rugby Park yesterday, Celtic had FOUR different captains. Scott Brown (who was subbed), Georgios Samaras (also subbed), Charlie Mulgrew (also subbed) and finally Joe Ledley. I bet that must be a first in world football."
Our Team of the Week on Saturday was another cracker...
The Rangers Crisis XI
(aka Athletico Bill Bill Bill Bill Bill Bill Bill Bilbao)
Manager: Owing Coyle
President: Pay As You Ernie Walker
1/ Peter Cheque
2/ Lex Bailiff
3/ Wayne Bridging Loan
4/ Tommy Ring-fenced (c)
5/ Damian Duff & Phelps
6/ Charlie Admin
7/ Paddy Mc (See You In) Court
8/ Alfie Conn
9/ Fraud Wallace
10/ Robin Van Pursestrings
11/ Sone a New-Co
Subs: Davie Weir, Michael Owen, Campbell Money (aka Weir Owen Money), Jim Debt, VAT Lofthouse, Marc Overdraft, Skint Dempsey, Garth Crooks.
And finally... the song that played us out?
Well, in the week David Goodwillie was found guilty of a street attack in Glasgow that was caught on CCTV, we let the listeners decide the tune at the end of the show.
The nominations included: Saturday Night's Alright For Fighting, My Camera Never Lies, Alive and Kicking, Hit Me Baby One More Time and The Rocky Theme.
However, as Fergie in Aberdeen sympathetically pointed out, Goodwillie only stepped in after his former team-mate Danny Swanson had been lamped by a total stranger.
So we went with his choice - the old Deniece Williams classic That's What Friends Are For...
To join in the fun on this Saturday's show, call 0500 929500, text 80295 or email offtheball@bbc.co.uk
Listen to the most recent Off the Ball programmes.
Download the latest Off the Ball podcast.