Man City striker Mario Balotelli needs to 'wake up' - Marcello Lippi
Last updated on .From the section Football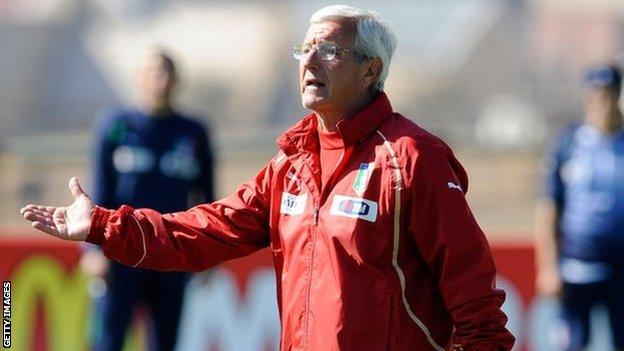 Italy's World Cup-winning coach Marcello Lippi says Mario Balotelli still needs to mature.
Lippi led Italy to their triumph in Germany in 2006, and left the Manchester City striker out of his squad for South Africa in 2010.
He said: "I hope that he will wake up soon. He'd be better off letting his talent on the field speak for itself."
But the former Juventus coach believes there would be plenty of options for Balotelli if Manchester City sell.
He told World Football: "He could play in any club in the world, because of his ability he'll be in much demand."
The 63-year-old added: "I think (Manchester City manager) Roberto Mancini looked after him almost as a father would and it's a pity he hasn't realised just how many great things he could achieve."
Roberto Mancini stated he would probably try to sell the 21-year-old this summer, after his red card in the 90th minute against Arsenal on Sunday.
"I don't have any words for his behaviour," said Mancini, who signed Balotelli from Inter Milan for £24m in August 2010.
However Lippi, who resigned as Italy coach following the 2010 World Cup, is confident City could recoup a fee for the international if he does move on this summer.
"I don't think if he does decide to go this summer that he will have problems finding buyers," Lippi said.
Balotelli apologised for being sent off for a second bookable offence in the 1-0 defeat at the Emirates, his fourth red card in his two years in England.
The controversy has been off the pitch too, earlier this season Balotelli escaped unhurt when a firework was let off inside his home, while in March 2011 it emerged he threw a dart at a City youth team player.
Mancini said if the player doesn't improve his behaviour his career could be "finished" within "two or three years" and Lippi echoed that warning to the former Inter Milan forward.