Andy Driver praises Hearts resilience ahead of Celtic clash
Last updated on .From the section Football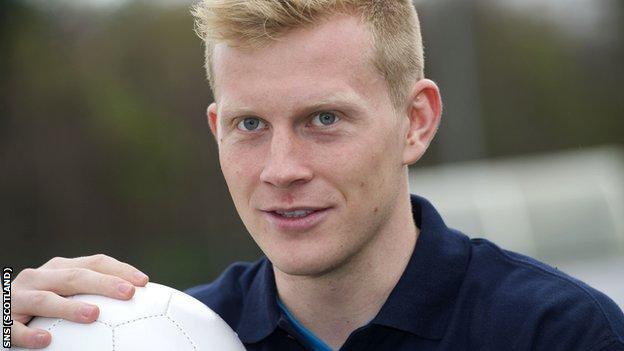 Winger Andy Driver thinks Hearts' recent tribulations have helped the players develop a "siege mentality".
"It's been a tough season," said Driver, ahead of Sunday's Scottish Cup semi-final against Celtic.
"As footballers we've just learned to concentrate on our football, we try and keep the rest of it in the background."
And the 24-year-old added: "The way the players have handled the way it's been, I think we've got to be commended.
"If we can go and get to a cup final or even make ourselves proud on Sunday, we'll show the character of the team.
"In a way, it might help us going into it; we've been through a lot and we've not really got anything to lose.
"It's just another incentive, if you need any more incentives. The game's everything for us. It's not easy but we're trying."
Driver had not yet become a first-team regular when Hearts last won the cup in 2006, but witnessed the impact it had on the club.
"It makes the whole season, that was a special season," he recalled.
"I was on the fringes of the first team and I got to experience it a little bit. As a footballer, that's all you want, you want that special weekend, that one special day, which you'll remember for the rest of your life and you'll take everything out of it.
"Now we're getting pretty close to it, it's something you don't want to let go. It's massive for the club, the fans and the players."
With Hibernian taking on Aberdeen in the other semi-final, there is the possibility of an all-Edinburgh final, with Hibs seeking to win their first Scottish Cup since 1902.
"To be the losing team against that would be a disaster," joked Driver.
"It's a massive weekend for the city. Hibs have got a good chance of getting to the final and then our game on Sunday, which we're going into as underdogs.
"But, it's always better going into a big game as underdogs."
Meanwhile, Driver admits he regrets his in December, which cast his future in doubt before he returned to action with Hearts.
"It was a hard time and I wasn't playing," he added. "It just got all on top of me. You do things in the spur of the moment, which looking back wasn't the right thing to do but we got through it and everything seems to be okay now."