FA Cup clash could be key to Merseyside supremacy
Last updated on .From the section Football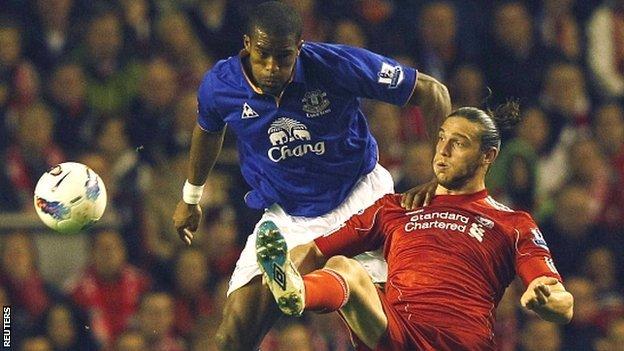 All Merseyside derbies are important but some are much more important than that.
Everton play Liverpool for a place in the FA Cup final at Wembley on Saturday. It has been a generation since the derby meant as much, seven long years since the blue half of the city dared to dream as it is doing now.
On days such as these the Kop proudly displays a banner carrying the words "forever in our shadow", but if blue eclipses red this time, Everton will have an opportunity to reverse that balance.
It was on 8 May 2005 that Everton manager David Moyes last dared to claim the balance of power might be shifting on Merseyside.
He had just guided Everton to their first top-flight finish ahead of Liverpool since 1987, apparently denying them the last Champions League place. "We have proved we are the best team in this city," Moyes said, clutching a glass of bubbly.
Seventeen days later, Liverpool won the Champions League in Istanbul. The champagne was put on ice and has remained there ever since.
This season, Everton have pulled ahead of their rivals by a single point in the Premier League table.
And Don Hutchison, who played for both clubs in the 1990s, thinks they can land a second, more damaging, blow with victory at Wembley.
He told BBC Sport: "Everton are in a strange situation in that they go into this game with the form and momentum behind them.
"There is a feeling that, if they were to win at Wembley, we might start to see a shift in the balance of power on Merseyside - but that is a big 'if'.
"Having said that, if Liverpool were to finish below them in the league and lose to them in the cup it would be hard to argue with that."
A Carling Cup win aside, this has been a chastening season for Reds boss Kenny Dalglish. Either side of the penalty shoot-out triumph over Cardiff at Wembley, Dalglish's men lost six out of seven Premier League games in a run that has seen them pick up only eight points from a possible 30.
Questions have been asked about the man and his methods and his position has even been called into doubt in recent weeks.
Fenway Sports Group may have parted company with director of football Damien Comolli but Liverpool's owners do not have any plans to dismiss Dalglish in the short term.
Liverpool have won the past six derby meetings in major finals or semi-finals, with Everton's last victory on such an occasion coming in the 1906 FA Cup semi-final at Villa Park.
With the exception of 2005, Everton have only eclipsed Liverpool three times in the last 47 years and, on each occasion - in 1970, 1985 and 1987, they needed to become champions to do it.
When Steven Gerrard's hat-trick inspired Liverpool to a 3-0 victory over a weakened Everton side at Anfield in March, few could have foreseen the slump that followed. Liverpool have won only one league match since, against Blackburn on Tuesday.
While Liverpool have been slipping down the Premier League table, Everton have won four matches out of five, keeping four clean sheets and scoring 12 goals. On that evidence, it is hard to agree with Moyes' claims his side are still the underdogs but the tag of favourites does not sit comfortably at Goodison.
Hutchison added: "The Blackburn result aside, Liverpool have had a really awful run of form. They have lost games you would never expect them to lose, while Everton have come good at just the right time."
Dalglish has fond memories of the last time the sides met at Wembley in the FA Cup, however. Liverpool lifted the trophy against the backdrop of the Hillsborough tragedy, the 23rd anniversary of which falls on Sunday. "This has meant more than any other trophy I have been involved in," Dalglish said at the time.
"At times you can't enjoy it as much as you would like until afterwards, when it's had time to sink in. Not this time. This time I got an immediate feeling of satisfaction.
"It was an emotional experience, one that gave me a deep sense of happiness. There is a tremendous feeling of achievement by everybody at the club. Someone had to be disappointed. It was Everton today, and unfortunately Everton in the previous Merseyside final in 1986."
If Everton can overcome the weight of history and avoid that all-too familiar sense of disappointment this time, the battle for supremacy on Merseyside may just begin to swing in their favour.