Kettering Town takeover is imminent - George Rolls
Last updated on .From the section Football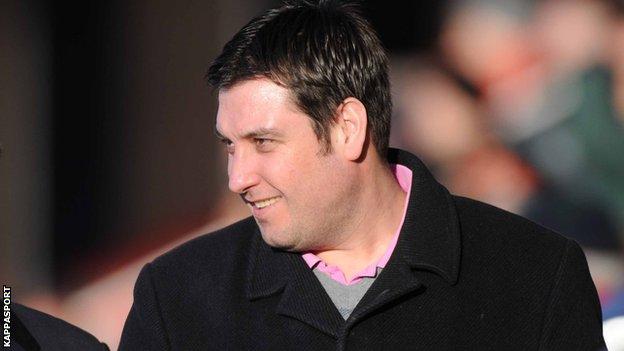 Kettering Town acting chairman George Rolls says he expects the full takeover of the club from Imraan Ladak to take place before Sunday.
Rolls told BBC Northampton: "The signing over of the shares will happen within the next 72 hours [from Thursday], I'm sure.
"I don't want to look at the past, I'm only interested in the future."
He added: "If you keep looking at what's happened in the past, that's where the club will stay."
Rolls is urging supporters to buy season tickets to ensure that there is a cashflow over the summer break.
"It's going to take a lot of hard work to get rid of the debts," he said.
"All I can ask is that fans help out in terms of buying season tickets. I've only budgeted that we'd get 300 season tickets, and on the gate we'd get more.
"But if we get 300 season ticket holders, there's no way the club will be looking to go into a CVA or administration."
Failure to pay football creditors resulted in the imposition of a player registration embargo in November. Rolls had suggested that being unable to pay or agree payment plans with these creditors by the time of the Conference AGM in June could result in relegation into the Southern Premier Division, rather than the Blue Square Bet North.
But that concern appears to have been allayed by the Football Conference.
"We're just making enquiries with HM Revenue & Customs about current debts and making sure the financial returns are all in with the Conference," Conference general manager Dennis Strudwick told BBC Northampton.
"Once that's done, if we're in a position to lift the embargo, we'll do that. But we are past the player registration deadline [for this season] in any case.
"There is nothing on the agenda - as of today - that would prevent Kettering from being in Conference North next season."
Meanwhile, the appointment of a full-time manager at Nene Park is expected soon after the end of the 2011-12 campaign, and Rolls envisions the club staying full-time in Blue Square Bet North.
"I've been very impressed with the number and quality of applications we've had. I think we need to make an appointment as soon as possible [but there is] no point until the season finishes," said Rolls.
"The player recruitment is going to be very important as well. Players who want to play for Kettering next season will be full-time, not just playing-wise, but going into the community and seeing sponsors."