Miles Addison keen on Bournemouth stay
Last updated on .From the section Football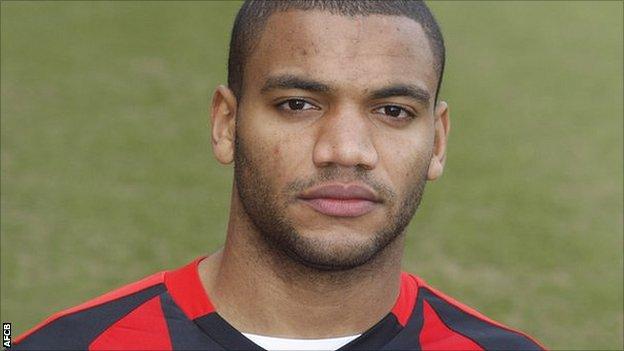 On-loan Bournemouth defender Miles Addison says he would consider a permanent move to Dean Court, and hopes caretaker-manager Paul Groves is given the job full-time.
Addison, 23, is on loan from Derby, where he faces an uncertain future, but has played 10 times since his arrival.
"If Paul Groves and Shaun Brooks stay then it is something I would consider," he told BBC Radio Solent.
"I've really enjoyed my time with them so far and at AFC Bournemouth."
Bournemouth take on Bury this weekend with the Cherries in 11th place and Addison admits there is little to play for in terms of the league, other than pride.
"We are all professional but it is difficult to stay focused when there is nothing to play for," admitted Addison.
"Our target is to remain unbeaten until the end of the season and we want to do that. There are four games to left to play and there are contracts to play for.
"It's got to be the motivation, people's futures are on the line. I'm not sure how many people are out of contract at the end of the season but people that are know they have to put in a positive performance to secure their future in football."
Addison says nothing has been decided with his future at the club, but he has been impressed by the new temporary management duo of Groves and Brook.
"The director of football has contacted my agent a couple of times and no-one really knows what it is going to happen," he said.
"If Paul and Shaun stay it would create a bit of continuity within the club. Lee [Bradbury] leaving the way he did was a bit of a shock and Paul and Shaun coming in, everyone has taken to them quite and well and I think it is only fair if they get a crack at it.
"They want us to believe and be brave, confidence was low and everyone seems to have added a few % to their game."