Scunthorpe's Sam Slocombe calm despite Spurs interest
Last updated on .From the section Football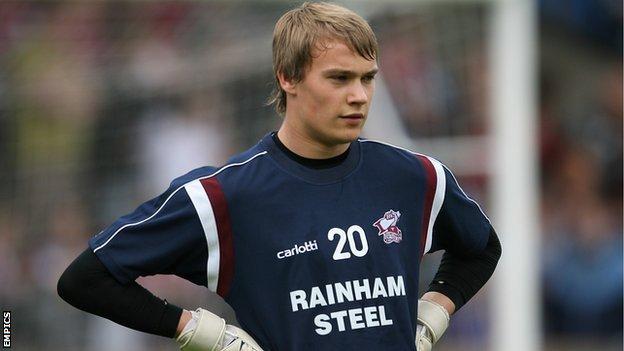 Scunthorpe United goalkeeper Sam Slocombe is ignoring reported interest from Tottenham and is hoping to secure a new contract with the Iron.
Slocombe, 23, has established himself in the team in recent months, conceding just six goals in his last 10 games.
"There's always people watching at football, whether it's Spurs or someone else," he told BBC Radio Humberside.
"I'm hoping for (a new deal) to be done as quickly as possible to be honest. I want it done as quick as I can."
Considering reports that he has attracted interest from Premier League clubs, Slocombe stated the importance of not trying too hard.
"If they want you, they come and watch you because of how you're playing so there's no need to change your game for that," he said.
"What you need to know is that they watch over a number of weeks and a number of games so they won't just come and watch one game."
But after signing a one-year contract extension at the club, he is hoping to secure his long-term future.
"The club took up the option to extend the current contract for another year, and at the minute we're negotiating a longer deal, but that's only at the early stages."
Meanwhile, midfielder Josh Walker is looking to make his loan deal from Watford permanent.
"I'm very hopeful. Things are being spoken about as we speak. I'm hopeful that things can be agreed soon," Walker said.
"I've told the club I want to sign, they've told me they want to sign me so it's just a case of getting things written down and signed.
"I'd like to think I'd be signed by the end of the weekend, but probably next week."
The 23-year-old had initially agreed a permanent move to the Iron in January but that was amended to a loan deal because he had already played for two clubs this season.