Euro 2012: Thomas Sorensen's five-star Denmark career continues
Last updated on .From the section Euro 2012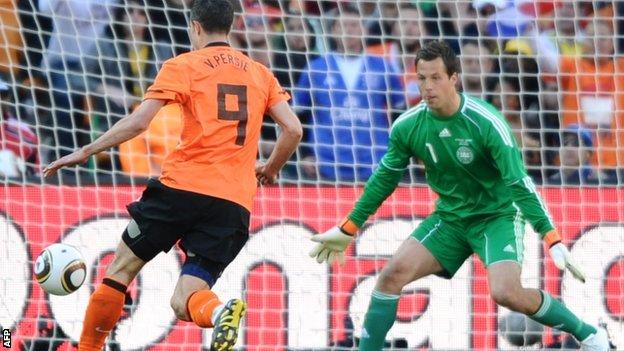 When Thomas Sorensen fulfilled a lifelong dream by replacing Peter Schmeichel and making his debut for Denmark in November 1999, it was the beginning of a new era.
A hundred caps later and the 35-year-old is still going strong - Euro 2012 will be his fifth major tournament as Denmark's first-choice goalkeeper.
There have been many adventures for him along the way, but few tougher than the challenge facing the Danes this summer. The draw has not been kind. The 'Group of Death' is where they find themselves.
Having topped a qualifying group that included Portugal, Denmark received the dubious reward of being pitted against those opponents again - plus the Netherlands and Germany.
"If you'd asked me before, it probably wouldn't have been the group I'd have picked," Sorensen told BBC Sport, managing a laugh as he did so. "But, on the other hand, you want to be up against the best and, if we can get through, it can only be easier from then onwards!"
And the Stoke keeper believes there are benefits to being in such a difficult group.
"A lot of the Danish press said 'that's it, then'. But I think, as time has gone by, everyone has become optimistic. There is no pressure on us.
"I don't think anyone expects us to get through the group so to do the unexpected would be nice. If we can get a result against the Netherlands in the first game, who knows?"
It would not be the first time Denmark have upset the odds. This tournament marks the 20th anniversary of their surprise triumph at Euro 92 when Sorensen - a 16-year-old boy at the time - took inspiration.
"England know 1966 and we know 1992," he says. "It's great to look back. If we can get anywhere near that surprise, I'm sure a lot of youngsters will take up football instead of golf or handball or anything else in Denmark!"
And, while the class of 92 missed Michael Laudrup, the current Danish side might have the most exciting talent since he retired 14 years ago - current Ajax starlet Christian Eriksen.
"There's a lot of pressure on him," said Sorensen of his 20-year-old Denmark team-mate. "You don't really know what to expect of him. You can see on the training field he's got all the ability. Let's hope he'll have a fantastic tournament.
"He is a handful. He has shown that for Ajax. He did really well against Manchester United in the Europa League. I think he's grown a lot over the last year."
Eriksen is not the only exciting fresh face though.
"Over the last couple of years, there's been quite a big change in the Denmark team," explains Sorensen. "There are still four or five of us older players, who have been there quite a few years, but there's talent coming through.
"Eriksen is the most talked about, but we've also got Nicolai Boilesen - the left-back from Ajax - and William Kvist who isn't a young player at 27, but has really broken through in the last couple of years in central midfield."
Of the more familiar faces, responsibility will fall on Nicklas Bendtner's shoulders. A striker who is not short of confidence, the Arsenal striker, who was on loan at Sunderland last season, finished as joint-top scorer in the Danes' qualifying campaign.
"Bendtner is always Bendtner!" jokes Sorensen. "He can do fantastic things on his day. Those are the kind of things we need in this group.
"You are not going to win tournaments not scoring goals - and he has been the focal point in the last few years and we need him to be on top form and bang in the goals - and hopefully other people will chip in. It will make it a lot easier with a couple of goals a game."
Manager Morten Olsen, 62, is the right character to instil the necessary discipline in Bendtner and the rest of the squad. Similar to Sorensen, Olsen has become synonymous with the Denmark team over the past decade and, having been appointed in 2000, he will be the longest-serving coach at Euro 2012.
"He's one of the best coaches I've had," says Sorensen. "He's so well prepared. He's deadly serious and he wants the best from everyone but he's also a great person as well. He's the first one to call if you get injured or anything. You know there's a really good person inside.
"Sometimes he's tough and he's demanding and he's not always pleasant, but that's the way a good coach has to be sometimes."
Olsen has clearly been impressed with his long-serving goalkeeper, having made him such an integral part of the Denmark side for so many years, leading to the landmark of 100 caps.
"It is very special," reflects Sorensen. "It is something you dream of."