Referee Brian Winter dismisses claims of favouritism
Last updated on .From the section Football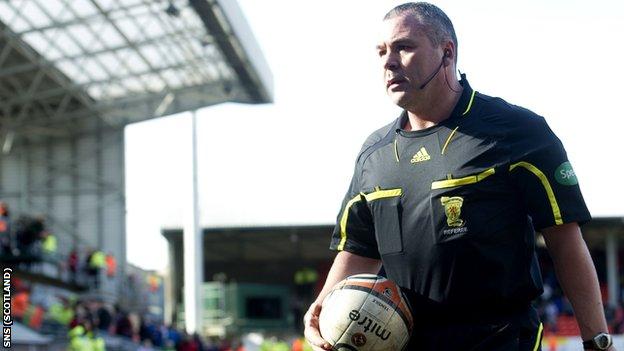 Retiring referee Brian Winter has dismissed claims by former colleague Charlie Richmond that favouritism abounds in Scotland's top flight.
However, Winter said the best referees in Scotland would always be given the chance to shine.
"It is not a case of 'sooking up'," he added.
Richmond, 43, is the second Category One referee to step down in the last month, following Steve Conroy's decision to hang up his whistle.
Suggesting he had lost the support of the "decision makers" and some of his colleagues, Richmond added: "To be told I'm not a team player, my interpretation of that is that it means I don't suck up to the right people."
However, Winter, who is retiring because of a knee injury, said young refereeing talent would not face any barriers in the Scottish game.
"Young referees will go on the same learning curve as all the referees have done, including Charlie and myself," said Winter
"And if they show ability and work hard then they will get their chance.
"You need to put the shift in and that also means fulfilling the role of the grade one referee. You have to be a role model for younger referees.
"You have to promote yourself in your local referees' association, you have to attend 70% of the training sessions and attend monthly meetings.
"I don't know if Charlie didn't get the games latterly because he didn't do that, but I don't think it is a case of sucking up to the right people.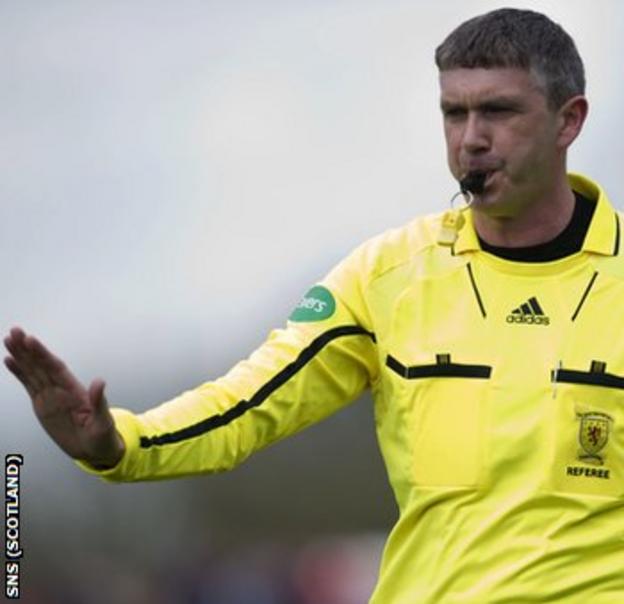 "It is a case of working hard and listening to good advice and I'm sure Charlie did that.
"I get on well with Charlie, he was fourth official to me at a recent game and I sensed that he was unhappy then.
"But Charlie is an excellent referee, he devoted a lot of time to refereeing and should be commended for that.
"It is unfortunate because the game needs guys like him, he had so much to offer and now that is lost."
SFA chief executive Stewart Regan rejected claims of cronyism, tweeting: "Referee appointments are based on performance. Would prefer to see consistent under performers 'retire' without feeling need to blame others."
And John McKendrick, chairman of the Scottish Senior Football Referees Association, added it was "deeply offensive" to suggest "referees are getting where they get to not on the basis of their ability".