Roberto Mancini: Man Utd not as tricky as Norwich for Man City
Last updated on .From the section Football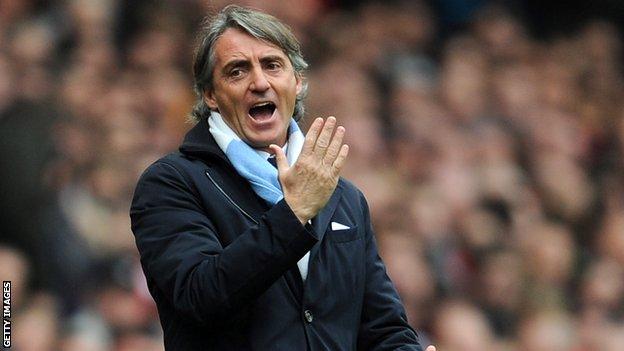 Manchester City manager Roberto Mancini has warned Saturday's game against Norwich City could be harder than the upcoming Manchester derby.
City will cut Manchester United's lead at the top of the table to two points if they win at Carrow Road.
"United is easy," he said. "We could lose or we could win, but it is easy.
"Against United or Chelsea, our concentration will be 100%. Norwich will be tough because we have had two days to recover after West Brom."
United host Aston Villa on Sunday, with the race for the Premier League title back on after they lost 1-0 to Wigan Athletic in midweek.
City closed the gap on United with a 4-0 victory over West Brom on the same night, but Reds coach Rene Meulensteen has dismissed City's challenge.
"City do not have a well-balanced team. They only have individuals who play for themselves," he said.
"You can see that City lack the right team spirit. United are accustomed to the pressure involved in going for the title."
However, while admitting United have the experience of winning titles, Mancini still believes his side can finish the season as champions.
"I agree with him [Meulensteen]," the Italian said.
"They have big experience and are a fantastic team. We are nothing.
"But sometimes the best team, or the team that has balance, doesn't win."
City will assess the knee injury which ruled Yaya Toure out of their last game, with Mancini saying there is "a chance" the midfielder could feature in East Anglia.
Meanwhile, Mancini admitted his surprise that City have been fined more by Uefa for returning to the field late in the second half against Sporting Lisbon (£24,740) than Porto (£16,700) were penalised for their fans' racial abuse of City players Mario Balotelli and Yaya Toure in February.
"I do not agree with this - I don't remember this," said Mancini. "How many minutes did we lose? One?"