Matt Bloomfield column: What does a PFA rep do?

By Matt Bloomfield
Wycombe Wanderers midfielder
Last updated on .From the section Football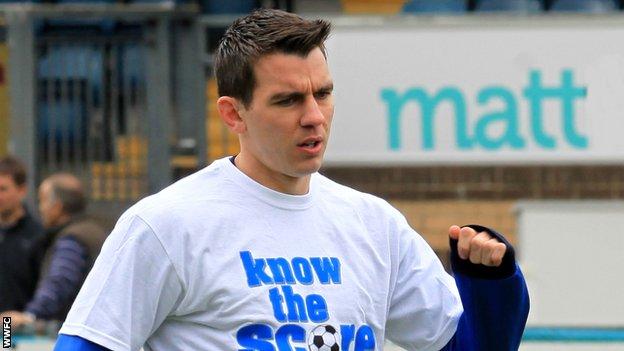 A few years ago I took on the role of Professional Footballers' Association rep at Wycombe.
The role is to act as a representative of your club for PFA and every side from the top of the Premier League to the bottom of League Two will have one.
I'm afraid there isn't any great voting system or acceptance speech that needs doing when you get the role. Basically the lads get together and decide who is organised enough and who is willing to do it and away you go.
There will be a variety of things that the rep needs to do during the season. At the start of each season some of our subscription goes towards us receiving a boot voucher that we can spend online to get a couple of pairs of boots for the campaign.
I'm not sure that the lads in the Premier League wait as eagerly for their voucher to arrive as the players at Wycombe do though.
Sometimes I wonder if they think that I make the vouchers, the amount of stick I get. Someone will always claim that other clubs already have their vouchers and that I must be slacking!
During the season there will be a range of initiatives and charitable causes that we as players are asked to support and all this information will be sent to the rep to sort out and distribute amongst the players.
If an ex-player is doing a bike ride or a run for charity we might be sent a poster and a donation form or a website address, and the lads will give what they can.
It's not the type of thing that gets much media attention, but I can assure you that players up and down the country will be supporting a lot of these worthy causes.
The annual AGM needs to be represented by every club. Unfortunately this year I couldn't attend due to my university commitments so James Tunnicliffe agreed to help me out and went in my place.
At the end of the season we get sent the ballot forms to each pick our PFA Player of the Year and Young Player of the Year.
This always sparks debate as everyone has their favourite players who they want to see win it. We also choose the Team of the Year from our respective league.
I always try to time this on an away trip as it's easier to get the lads to fill them in when they are sat on a coach for a few hours.
There is also some administrative paperwork that needs sorting out such as registering new signings and youth team players. I also sort out meetings about pensions, as well as times when the guys from the PFA come to visit us.
It's not all organising and sorting though, as the role does lead to a few nice opportunities as well.
Earlier in the season I was asked to sign the anti-homophobia charter and last week I was asked to wear a Know The Score T-shirt to raise awareness about bowel cancer.
We are in a very privileged position as players that by the simple task of wearing a T-shirt during the warm-up we can help charities and raise awareness of campaigns.