Terry Connor says he would take a different role at Wolves
Last updated on .From the section Football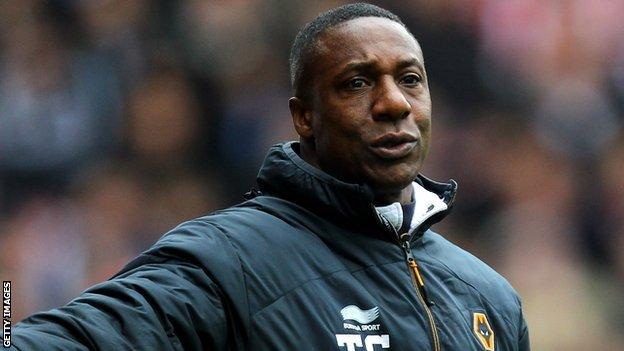 Wolves interim manager Terry Connor says that he would be prepared to step aside and work in another role at the club if they are relegated.
Connor has overseen Wolves' slide to the bottom of the Premier League, nine points adrift of fourth-bottom Wigan.
He said: "I'm a big boy. I know the score in football. I know what happens if Wolves are relegated. I went in with my eyes open.
"I'm sure I could swallow my pride and do something else."
The 49-year-old has spent 13 years at Molineux. He worked as an assistant and first-team coach under four different managers before taking over from sacked Mick McCarthy until the end of the season.
He remains without a win after eight games in charge, taking just one point, ahead of Saturday's game at Sunderland.
Connor added: "It is kind of strange when people say your future rests on 13 games after 13 years here. I knew when I took over that would be the case and I welcome the challenge.
"People ask if it was the biggest risk I've ever taken and I say 'no' - because I think I can do the job. How I am judged after the 13 games is down to the club and what they want to do in the future.
"I felt ready to take on that challenge and I've enjoyed every minute. Whether I still have a job, you will have to ask the club."
Looking ahead to what will happen at the end of the season, Connor said: "We will all sit down, assess what has gone on over the course of the season and discuss the last 13 games.
"The club will find their path for the future and, if that's with me, fine. If not, I accept that as well."
On their survival chances, he said: "We've won one game in 18 so, if you are asking me if we can win five out of five, I'm saying that is the challenge. But you know that would be a tall order for even Manchester United, Manchester City, Chelsea or Arsenal to achieve."