Beram Kayal's return softens James Forrest blow for Celtic
Last updated on .From the section Football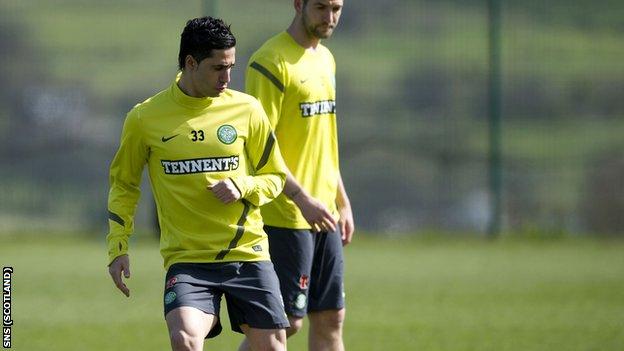 Beram Kayal will make an earlier than expected return from injury on Monday as Celtic prepare to be without James Forrest for the rest of the season.
Kayal has been missing since December, while it is also an ankle injury that has sidelined his fellow midfielder since the League Cup final.
"Beram will start full training on Monday, which will be fantastic news for ourselves and for him.
"It is a remarkable rehabilitation he's done," said manager Neil Lennon.
"We have missed him at times because he's such an important player to us."
Striker Mohamed Bangura, who has yet to establish himself since his summer transfer from AIK, has already started training after being out of action since October.
"Mohamed Bangura is back training full time with the squad, which is great as he's been hampered with a knee injury," said Lennon.
"James is maybe doubtful for the rest of the season. We don't know yet.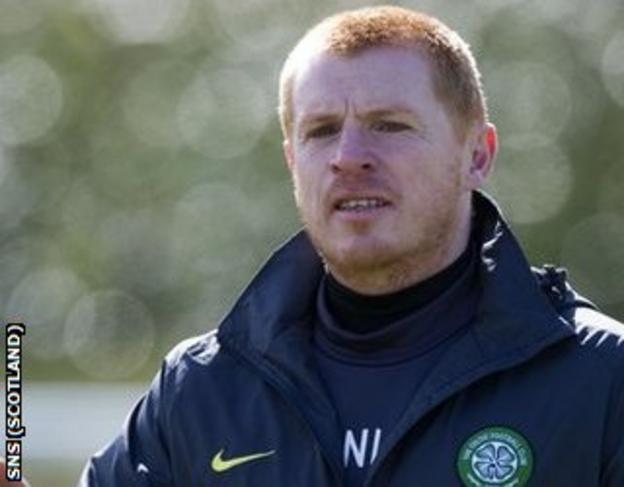 "We'll just have to see how he reacts over the next few weeks."
Lennon is preparing to give fringe players like full-back Mikael Lustig and striker Pawel Brozek more opportunities, after Sunday's Scottish Cup semi-final against Hearts, to play now that the league title has been secured.
"Lustig, I'd like to give him some game time before he goes away with Sweden," said the manager, who was delighted at the debut performance of 19-year-old Czech midfielder Filip Twardzik against Kilmarnock at the weekend.
"Brozek as well. He's been very patient and I think he's ready to play and there are a few other younger ones."
Their performances will help in the team-building plans of a manager who sought to clarify remarks after he title win that were interpreted by some as casting doubt about his own future at Celtic Park.
"I review my situation every season, whether I am a manager, a player or coach," said Lennon.
"I've consistently done that for the last 10-12 years and I've consistently been here for the last 10-12 years and I don't see that changing very soon.
"It is a constant turnover in your mindset. You have an idea of areas where you want to strengthen and we have an idea of where we want to trim the squad.
"We're hoping to get that all rolling. We need to prepare as well as we can for the close season pre-season with the Champions League qualifiers coming up in July, when we would like to be hitting the ground running."