Tell us your favourite BBC radio football commentary moment
Last updated on .From the section Football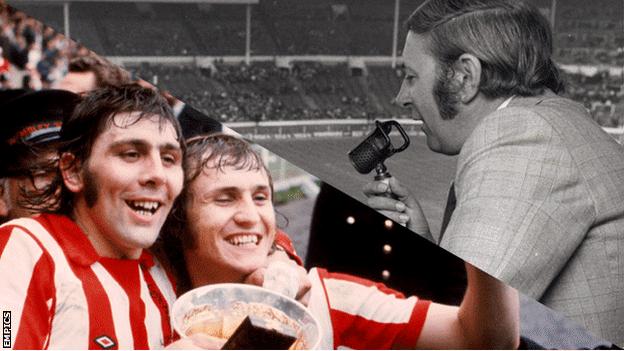 It has been 85 years since the BBC's Teddy Wakelam described the first football match to be broadcast live on the radio, as Arsenal entertained Sheffield United in a league match at Highbury in 1927.
In the time that has passed since, there have been thousands of BBC football commentaries transmitted, from the amateur game in Cumbria to the biggest of international nights at Wembley.
The BBC and the English National Football Museum want to commemorate these great football commentaries and we need your input.
Remember when goalkeeper Jimmy Glass scored in the last minute to save Carlisle United's Football League status in 1999, and when struggling Northampton knocked Liverpool out of the League Cup in 2010?
Further back, there was Manchester United lifting the European Cup against Benfica in 1968, and Stanley Matthews conjuring up a famous FA Cup win for Blackpool against Bolton in 1953.
Which spectacular wins, cup runs, promotions, super survivals, glorious goals or bumbling bloopers are etched on your memory? Which local or national commentator has provided a soundtrack to your club's top moment?
We will celebrate the most unforgettable radio football commentaries in a live show on 28 May at 2000 BST and the National Football Museum will provide a permanent home for the chosen clips when it opens the doors of its new home in Manchester on 6 July.
The chance to submit your favourite commentary suggestion online has now passed.
A selection of the comments that have been submitted will be used during the live broadcast. You can also share your memories at #bbcsportsday.