Salvador Cabanas returns after being shot in the head
Last updated on .From the section Football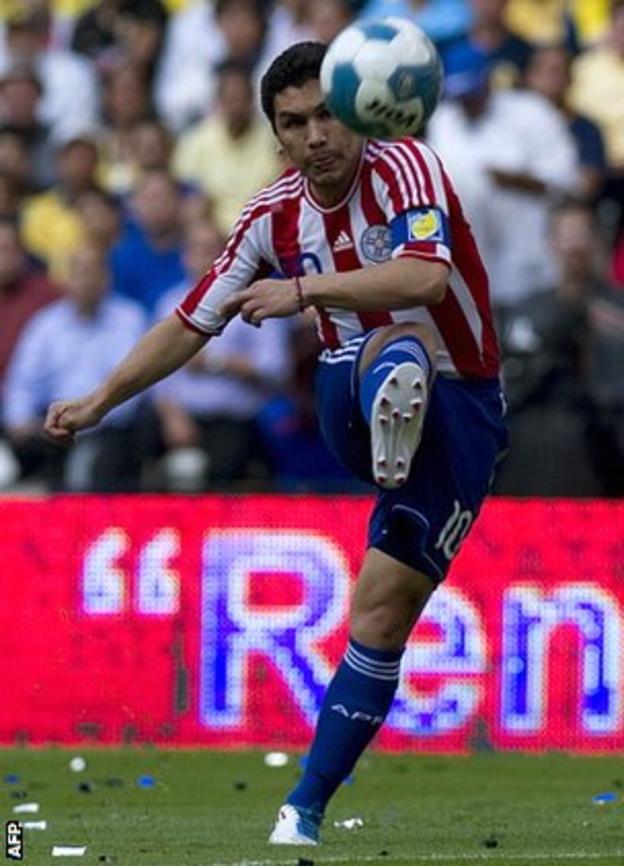 As Fabrice Muamba continues his recovery from the cardiac arrest he suffered so publicly last month, he may take inspiration from another footballer who came very close to death and is about to complete his comeback.
Paraguay international Salvador Cabanas is set to play his first professional match for more than two years on Saturday, after recovering from being shot in the head.
In January 2010, Cabanas was enjoying a day off from training with Club America in Mexico City.
He became involved in an argument with an alleged drugs lord, "JJ" Balderas, who shot him in the toilets of a bar and was later arrested for attempted murder.
Although the bullet did not kill Cabanas, doctors could not safely remove it without further endangering his life, and it remains lodged in his head to this day.
At the time, Cabanas was not only a key player for his club in the top tier of the Mexican League, but one of the first names on the team sheet for Paraguay who, later that year, enjoyed their best ever World Cup, reaching the quarter-finals before being knocked out by Spain.
Despite their run, many Paraguayans believe they would have done even better had the 2007 South American player of the year been available.
Last August, he returned to the iconic Azteca Stadium, where he played for Club America, to appear for a few minutes for both sides in a friendly between his former team and Paraguay.
Three months ago, Cabanas, who in the meantime had returned to Club 12 de Octubre, the side from his home town of Itaugua where he began his career, was given the all clear to return to competitive football.
It completes what the player described as a miraculous recovery.
"Nobody survives what happened to me," the 31-year-old said. "That's why I always appreciate all the people who prayed for me and also the president of Doce [Club 12 de Octubre] who's let me be with them.
"Having faith was fundamental for me. That's why I'm here right now."
Doce, who won the league in 2002 but will begin the new season in the third tier, are coached by Rolando Chilavert, the brother of the colourful, goalscoring Paraguay keeper Jose Luis.
Talking to World Football about Cabanas's recovery, the 50-year-old former midfielder said: "He's improved a lot compared to the early days.
"We know there are things that are irreversible but his insistence and perseverance makes him better every day. I believe he will help us and he will be starting in the opener.
"Physically, he is fit. On his left side that was a problem in the beginning, I can say he is 90% in his movement."
Cabanas was a pacey, deep-lying forward who enjoyed a stunning Copa America in 2007, coming off the bench to score three times as Paraguay reached the last eight.
At 31, it is uncertain whether he will ever be fit enough to be picked for La Albirroja - as the national side are known - who are now coached by his former international team-mate Francisco Arce.
But as he contemplates competitive action again, Cabanas has this message for Fabrice Muamba, most of whose journey to recovery lies ahead.
"Tell him to be strong. He can get out of this. It depends on him. My best wishes for him and his family."