Rangers bidders seek SPL talks over points threat
Last updated on .From the section Football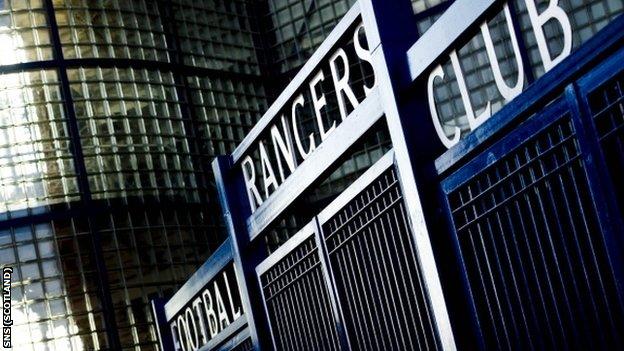 Rangers' three potential owners want to speak to the Scottish Premier League about proposed rule changes before progressing with their takeover bids.
The SPL this week announced that on 30 April it will vote on imposing a 10-point penalty for two seasons on any "newco" emerging after liquidation.
Administrator Duff and Phelps insists none of the bidders wishes to withdraw.
But they "wish access to the football authorities in order to seek greater clarity on the proposed rule changes".
And the bidders have made other changes to the conditions attached to their offers.
Duff and Phelps had hoped to announce a preferred bidder this week, but that announcement was delayed because of the new SPL proposal.
Joint administrator Paul Clark insists that this can still be done before the SPL's 30 April vote and it is believed that it could come next week.
"Following discussions with three parties bidding to purchase the football club, we can confirm that all three parties have informed us today they wish to remain in the sale process," he said in a statement.
"However, following the information supplied by us to bidders in relation to proposed new rules on penalties for insolvent clubs within the SPL, there have been changes made to the conditions attached to bids.
"Among the new conditions are requests from parties who now, before committing further, wish access to the football authorities in order to seek greater clarity on the proposed rule changes.
"We hope to provide Rangers supporters with a further update next week and will continue to make every effort to reach the point where a preferred bidder can be announced.
"We are keen to conclude an offer as soon as possible and certainly we would hope that this does not mean that finalisation is delayed until 30 April 2012."
Singapore-based businessman Bill Ng, who is leading a consortium from the Far East, had already told BBC Scotland that he would not be deterred by the SPL proposal.
Now Duff and Phelps has received positive noises from the Blue Knights consortium, led by former Rangers director Paul Murray, and American tycoon Bill Miller.
Meanwhile, Rangers directors Andrew Ellis and Dave King have contacted Duff and Phelps in a joint statement demanding the resignation of Ibrox owner Craig Whyte.
London property developer Ellis, who was appointed to the board by Whyte, and King, a South Africa-based businessman, said: "He has been found not to be a fit and proper person to be an official at a football club by the Scottish Football Association.
"Moreover, he has not done the right thing in the past for Rangers and we believe that he will not do the right thing for the club in the future.
"It is abundantly clear that Craig has misled the Rangers board and the fans.
"But, by walking away immediately, we believe and hope it will make the sale of the club easier."
Whyte has repeatedly denied any wrongdoing since taking over Rangers last May and since the club was plunged into administration on 14 February.