Sir Alex Ferguson praises Alex McLeish's 'remarkable job'
Last updated on .From the section Football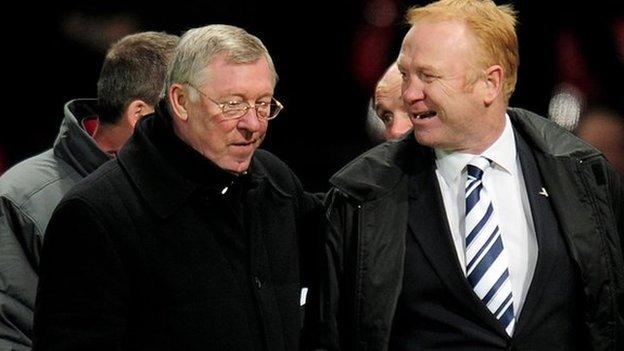 Manchester United manager Sir Alex Ferguson has backed Alex McLeish to be a success as Aston Villa boss.
Ferguson managed McLeish at Aberdeen and feels that Villa, who are only six points above the Premier League drop zone, must be patient with the Scot.
"He was a great player, and he has had a good career as a manager. He will do a good job at Villa given time, trust and confidence," Ferguson said.
"We all need a pat on the back at times and Alex has done a remarkable job."
Villa go in to Sunday's Premier League game against Manchester United having won just one of the last 30 meetings between the sides, the 1-0 triumph at Old Trafford in December 2009.
Former Birmingham City boss McLeish, 53, has yet to win over the Villa supporters, with the club having been dragged into the Premier League relegation battle after just two wins in 13 games.
Ferguson thinks the job has been made a lot harder for McLeish - who played under his compatriot at Aberdeen from 1978-1986 - by injuries to key players including striker Darren Bent.
And the Manchester United boss also feels that Villa owner Randy Lerner's demand to reduce the wage bill and his failure to release funds to sign new players in the January transfer window have hampered McLeish.
"There was an imbalance in terms of what is needed in the Premier League," said Ferguson.
"You only need a couple of injuries and it is a massive blow. And in Bent you are taking away a goalscorer who gets between 18 and 20 a season. That is a big loss.
"I do have sympathy for Alex," added Ferguson. "I have known him since he was a little kid.
"When I brought him into the team at Aberdeen he was always a very receptive, intelligent young man."