Celtic manager Neil Lennon has sympathy for Rangers staff
Last updated on .From the section Football
Celtic manager Neil Lennon has sympathy for staff at city rivals Rangers, who went into administration in February.
Rangers, who reliquished their title to Celtic last weekend, have three bidders trying to save them from liquidation.
"Until that is finalised then it would be difficult for me being the Celtic manager to really comment on that," Lennon told BBC Sport.
"But I do feel for the players and the management staff there for what they have had to contend with themselves."
There has been much debate about whether Scottish football and Celtic in particular need Rangers to survive, but Lennon believes Glasgow's Old Firm duo are a vital source of revenue for other clubs.
"It is very concerning and you do wonder what an effect it will have on the game up here as a whole," he said.
"It is difficult to comment on because there seem to be different stories coming out every day about the future of the club.
"But other clubs need Celtic and Rangers, the crowds that they bring and the atmosphere and the revenue they bring.
"So there are worrying times for everyone."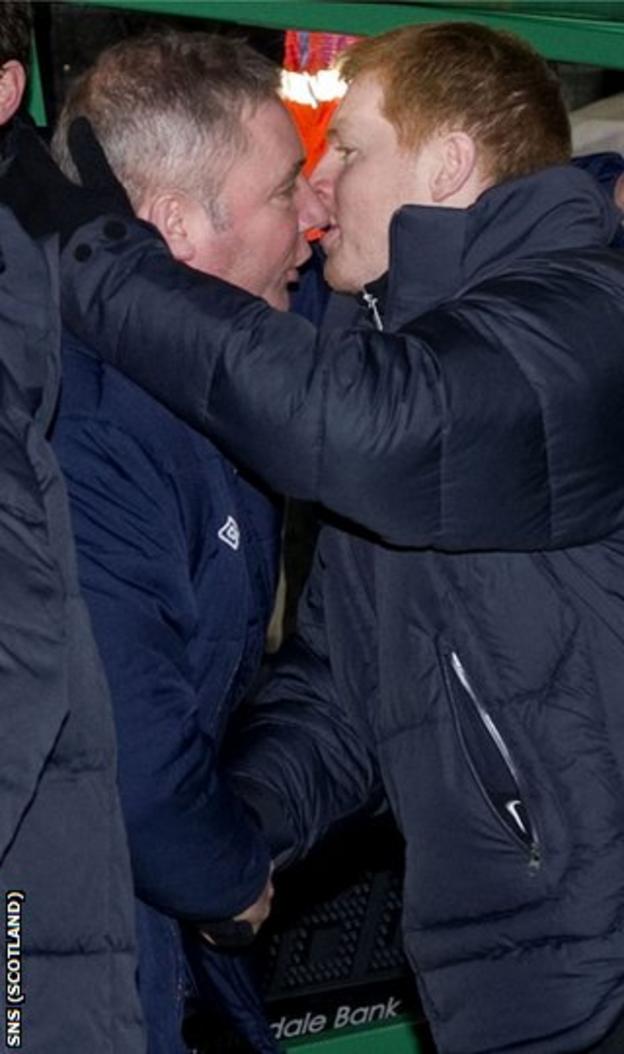 Two men were convicted of assaulting Lennon in Glasgow's West End in 2008.
And last year he suffered sectarian death threats, he was sent parcel bombs through the post, while a Hearts supporter was given an eight-month jail sentence after running on to the touchline to challenge the Celtic manager.
However, those events have not destroyed the former Northern Ireland midfielder's love of his adopted city.
"There were things away from the game that any manager shouldn't have to contend with," he said.
"And I want to say it's not a Glasgow problem. Glasgow's a great city. I love living here.
"I've been here 12 years and I love my job and I love the environment we live in and sometimes Glasgow gets a hard sell.
"And sometimes what goes with the Celtic and Rangers, there are things away from the football that shouldn't be there.
"The authorities and both the clubs try to do all they can to deal with that and I hope this season will be the end of all the other stuff I've had to put up with and I can solely concentrate on building a team for next year."
Lennon, whose side face Hearts in the weekend's second Scottish Cup semi-final on Sunday, says the title success has made him hungry for more and he is looking forward to improving his squad in preparation for next season's Champions League qualifiers.
However, he admits that the Scottish Communities League Cup final defeat by Kilmarnock still hurts.
"We were two games away from winning the treble last year," he added. "We were maybe one or two games away from winning it again.
"So the players have shown remarkable consistency domestically and, when you reflect on the season, it will probably hurt even more when you see what you've achieved at the end of the season and there was an opportunity to win another trophy."