On-loan Gylfi Sigurdsson happy to stay at Swansea City
Last updated on .From the section Football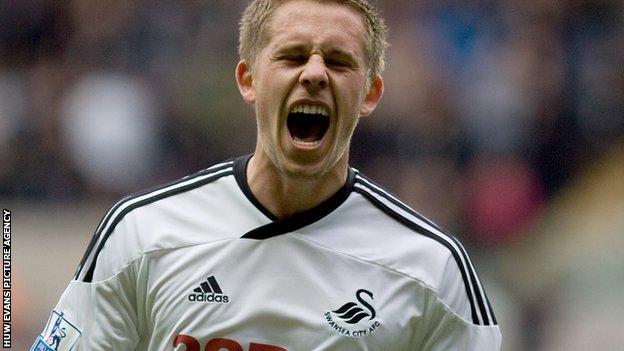 On-loan midfielder Gylfi Sigurdsson has said he would be happy to stay at Swansea City beyond the end of the current season.
The Iceland international is on-loan from Hoffenheim until the end of the season and has impressed during his spell at Swansea.
"I just want to play football and if it's here I'll be very happy," he said.
The former Reading player has scored seven goals for Swansea since joining on loan in January and was named the Premier League's Player of the Month for March.
The 22-year-old is set to return to the German side at the end of the campaign and is currently unsure where he will be playing next season.
"It's very hard for me to say because I've got another couple of seasons left on my contract at Hoffenheim," said Sigurdsson.
"But I'm very happy here and enjoying my football so hopefully things will get sorted out in the summer.
"I just wanted to play football and didn't get the chance in Germany in my second season there.
"It's down to whoever's in charge to speak to Hoffenheim and get something sorted."
Swansea's win over Blackburn at the Liberty Stadium halted a run of four successive defeats in the Premier League.
Sigurdsson's first half opener was his first goal for Swansea at the Liberty Stadium with a Nathan Dyer effort and a Scott Dann own goal securing the victory.
"It was about time I scored at home," said Sigurdsson.
"I've got a few goals away from home but it was a special one for me too to get one at the Liberty Stadium.
"The most important thing was to get three points and a clean sheet.
"The fans have been fantastic, especially in the last four games. It was very important to bounce back and get three points.
"Apart from the last four games it's been fantastic. The way we play football is brilliant."