Everton drop Royston Drenthe for disciplinary reasons
Last updated on .From the section Football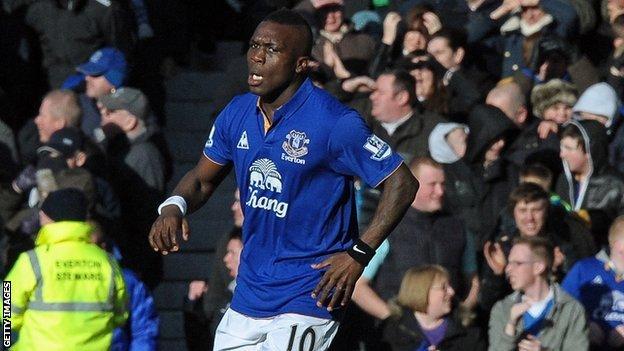 Royston Drenthe was omitted from Everton's squad for Saturday's FA Cup semi-final defeat by Liverpool for disciplinary reasons.
"Drenthe has been the subject of a disciplinary matter," said the club.
"This has been dealt with internally. The club will make no further comment."
The 25-year-old midfielder, on loan from Real Madrid, has failed to hold down a regular place but has contributed four goals and seven assists since his August 2011 move.
Meanwhile, Everton defender Sylvain Distin has accepted responsibility for the club's semi-final defeat at Wembley.
Nikica Jelavic's first-half strike had given the Toffees the lead, but Luis Suarez levelled for Liverpool in the 62nd minute after running on to the Frenchman's under-hit backpass.
Andy Carroll then headed the winner with three minutes of the game remaining.
"I have to deal with it and accept it," Distin told evertontv.
"I could use 50,000 excuses but the fact is I missed the pass and I cost a goal and cost the game because it changed the game.
"I know that I cost my team-mates, the fans and my family a place in the final and that is my point of view.
"I don't think I am hard on myself, I am a realist, that's it. That pass, for me, cost us the game. I have to face it. I never hide no matter what happens, good or bad."
His team-mate Tim Cahill publicly expressed his support for Distin after the game.
"Sylvain's been our player of the season - that's the only way I can put it," the Australian said.
"One mistake doesn't sum up his season."
Distin was grateful for the support of his colleagues, but insisted that he deserved the blame for the cup exit.
"The guys have been amazing but they know me, they know I am man enough to face my responsibilities," he said.
"They don't need to tell me what I did right and wrong because I am mature enough to know that."
Everton captain Phil Neville is determined not to let the FA Cup semi-final exit blight the rest of their season, and has urged his team-mates to respond positively when they face Manchester United in the Premier League on Sunday.
"We've somehow got to bounce back from this," he said.
"Back in October, when everyone thought the club was on its knees, we've bounced back from that disappointment.
"We're in seventh position now and the sign of a good team, a great team, is when they bounce back with victories.
"This is when we need to show our mettle and we're going to do that next week at Old Trafford."