Di Matteo must win FA Cup to have chance of getting Chelsea job - Claudio Ranieri

Last updated on .From the section Football
Claudio Ranieri says if Chelsea win the FA Cup and finish in the Premier League's top four, Roberto di Matteo has a chance of remaining as manager.
Di Matteo has overseen nine wins from 12 games in all competitions since being appointed on an interim basis following Andre Villas-Boas's sacking.
Asked if Di Matteo should continue as manager next season, ex-Blues boss Ranieri said: "It depends.
"If he achieves the FA Cup and fourth place, then why not?"
The Italian added: "Roberto has started very well. Roberto is the right man to do something good there."
Ranieri, Chelsea boss from 2000 to 2004, was at Wembley on Sunday to see his old side thump Tottenham 5-1 in a controversial FA Cup semi-final to set up a meeting with Liverpool next month.
Chelsea sit sixth in the Premier League - two points behind fourth-placed Spurs with five games remaining - and meet Barcelona in the first leg of the Champions League semi-final at Stamford Bridge on Wednesday.
Di Matteo's only previous top-flight managerial experience came with West Brom, but Ranieri does not believe that should count against the 41-year-old.
"Experience is not necessarily important," said Ranieri, who is keen to return to return to English football after leaving Inter Milan at the end of March.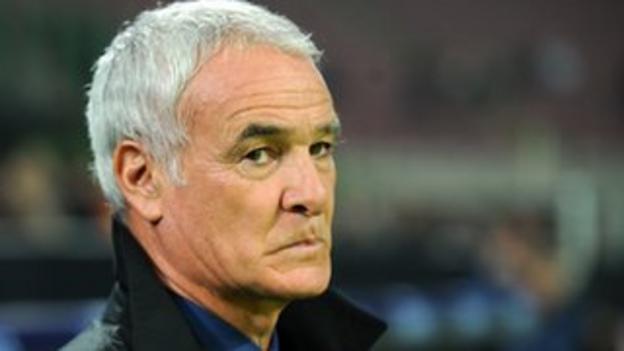 "Villas-Boas is clearly a good manager - he won a lot at Porto. Look at Pep Guardiola at Barcelona too - he also started very young at a big club.
"Your age is not important. What is important is the ideas you transmit to your players.
"Villas-Boas was unlucky because he wanted to do something new. But there is a team there with experienced players and it is important to use them in the right way.
"If you put in younger players only sometimes, rather than change things a lot, then that is how I would do it."
Di Matteo's situation has echoes of the end of Ranieri's own time at Stamford Bridge when, in 2004 - Roman Abramovich's first season as owner - the Italian steered Chelsea to the Champions League semi-final without knowing whether he would keep his job at the end of the campaign.
They lost to Monaco in the last four after letting slip a two-goal second-leg lead that would have sent them through to the final.
"I will always remember that match because we were very unlucky," said Ranieri, who was replaced by Jose Mourinho that summer.
"If it had finished 2-0 to us, it would have changed the result of the match. If it changed the match, it would have changed my life. It would have changed everything."
Di Matteo, whose playing career was ended at the age of 31 by a broken leg suffered while at Chelsea, is the seventh permanent or interim manager appointed by Abramovich since Ranieri's exit.
Ranieri, who lost the 2002 FA Cup final against Arsenal but took the club into the Champions League in 2003, says compatriot Di Matteo is right not to prioritise either domestic competition.
"Which is the most important? They both are," Ranieri said. "It is the easy answer but it is the truth.
"It is important for the next season to finish in the top four and make the Champions League, but it is also very important for the club to win the FA Cup."