Harry Redknapp says referee admitted Juan Mata goal mistake

By Phil McNulty
Chief football writer at Wembley Stadium
Last updated on .From the section Football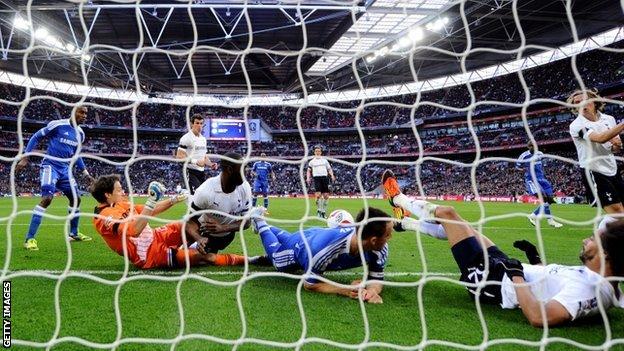 Harry Redknapp has claimed referee Martin Atkinson admitted he made a mistake awarding Chelsea's second goal in their 5-1 FA Cup semi-final victory over Tottenham - then insisted video technology must now be introduced.
Chelsea were leading 1-0 when Atkinson ruled that Juan Mata's 49th-minute shot had crossed the line despite furious protests from Spurs players insisting the ball had been blocked by Ledley King and Benoit Assou-Ekotto. Replays confirmed Mata's shot had not gone in.
"The second goal was a disaster for us," said Spurs manager Redknapp. "It was an honest mistake by the referee but it was nowhere near the line.
"The referee has made a big mistake. He hasn't done it on purpose but I don't see how he could give the goal.
"It wasn't as if someone kicked it away and it all happened so quickly."
Redknapp added: "He must have guessed because he couldn't have been sure. He has made an honest decision but has made a mistake - but he's not done it on purpose.
"I spoke to him and he said he feels worse than I do about it - I said 'I don't think so.' He said he feels bad and he's going to have a bad week but there is nothing we can do about it now.
"In the first half I felt we were the better team and that certainly didn't help, although I'm not going to sit here and say that was the only reason we got beat."
And Redknapp renewed the demands for the introduction of technology when he said: "It has got to come in. We can't keep going on like we are with important decisions not being correct. The referees don't make mistakes on purpose and he felt it was a goal.
"We need goal-line technology. It's got to come in. We can't keep having situations like this."
And Redknapp's call has been supported by his striker Emmanuel Adebayor, who says the lack of video technology is "killing" the game.
"To be honest, I'm just tired of it and everyone is talking about goal-line technology," said the Togo international.
"They have to make something happen because it's killing the league, it's killing the FA Cup, it's killing the game, it's killing everything."
Spurs pulled a goal back through Gareth Bale - but Chelsea regained control and added to their victory margin through Ramires, Frank Lampard and Florent Malouda to set up an FA Cup final against Liverpool at Wembley next month.
Chelsea captain John Terry has admitted he does not think the ball crossed the line. "I thought it hit me to be honest and didn't go over," he said.
"But the linesman has seen it and given it. We're delighted with the win. They can argue about it all they want but the only thing that matters is that Chelsea are through to the final."
Chelsea caretaker manager Roberto di Matteo admitted his side were fortunate to be awarded the second goal, saying: "Apparently it wasn't in so on this occasion we were very lucky, but many times before we have had decisions go against us.
"I can understand how you feel when it happens, but in the home game against Spurs there was a penalty on Ramires for us but we had to take [accept] it because the referee didn't give it.
"And we didn't just score two goals, we scored five so I'm not sure how much it mattered.
"We're pleased with the performance. When you win, it keeps the positive mood in the camp and the players take confidence from every win.
"It's credit to these players that they keep going and try hard for the club and each other."