Richie Barker criticises moaning minority of Bury fans
Last updated on .From the section Football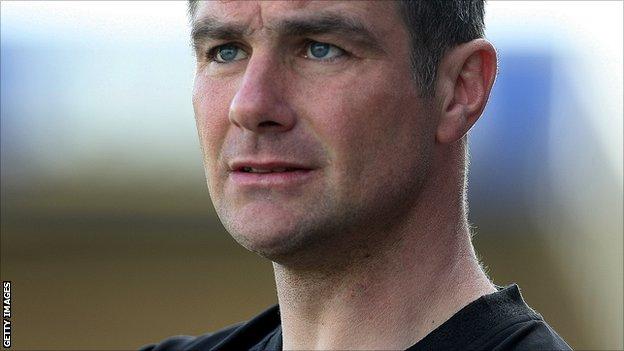 Richie Barker has criticised "a small minority" of Bury fans who "moaned throughout" their 1-0 win over Bournemouth at Gigg Lane on Saturday.
"It's a small minority and I'm probably talking about half a dozen people out of a crowd of 3,000," the Shakers boss told BBC Radio Manchester.
"Those players needed the fans and they were excellent - 99.9% of the fans were fantastic and got behind the players.
"Those people that aren't going to do that might as well not bother coming."
Mike Grella's first-half goal was enough to lift Bury up to 15th position in League One and nine points above the relegation zone.
Barker continued: "It's annoying but there were certain people that literally moaned throughout the whole game.
"We were winning 1-0. You can moan all that you like when we're 4-1 down.
"We're now sitting in mid-table in League One, having beaten a team that are probably the richest team in our division with the money that they throw about, and people are still moaning about it.
"I'd like the rest of the fans to help us out by preventing that."
For the promotion and relegation news as it happens in League One this Saturday - follow our new exclusive text commentary service Football League Live. It has fixtures, results, as-it-happens tables and regular reports from across the Football League. Saturday, 1400 BST, bbc.co.uk/sport