Willie McKay experiment is over - Doncaster's John Ryan
Last updated on .From the section Football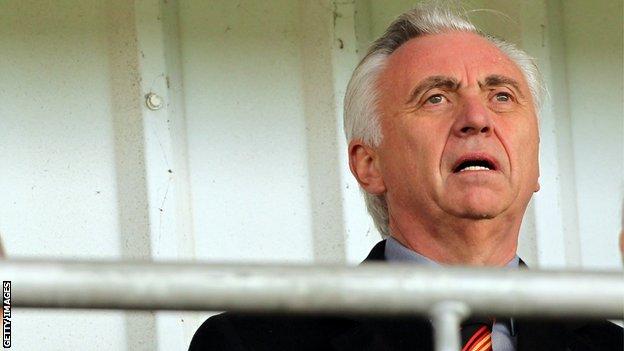 Doncaster Rovers chairman John Ryan believes the club's experiment with agent Willie McKay has come to an end now that they have been relegated.
McKay had helped Doncaster bring in international players on reduced wages if they were not playing regularly.
"Willie's brought some great players into this club but it just didn't work," Ryan told BBC Radio Sheffield.
"The experiment wouldn't work in the third tier. I don't think he'd want to be involved next season.
"Unfortunately, the way it worked would only be possible in the Championship. We're just too far down now."
McKay helped bring in a number of high-profile players to the Keepmoat Stadium including El-Hadji Diouf,Pascal Chimbonda,Habib Beye and Freddie Piqiuonne.
Despite the relegation, Ryan is remaining positive about the future: "Looking back, we used to aspire to be in League One, there's always one or two big teams at that level.
"We've done well to stay in this division for four years. We don't have the fanbase and we've had some shocking refereeing decisions against us."
Ryan was particularly unhappy with the officiating in his side's defeat by Pompey at the weekend.
Doncaster conceded two contentious penalties and had a man sent off before going back into the lead only to lose in the final minute, with the third goal seemingly handled into the net by Dave Kitson.
"I've been watching football for 50 years and his second half performance was so bad that I don't think it's wrong of me to call it a dereliction of duty," he continued.
"He should never be allowed to referee again, all four of those Portsmouth goals should arguably not have been given."
For the promotion and relegation news as it happens in the Championship this Saturday - follow our new exclusive text commentary service Football League Live.
It has fixtures, results, as-it-happens tables and regular reports from across the Football League. Saturday, 1400 BST, bbc.co.uk/sport