Potential Port Vale buyer Keith Ryder to consider ticket prices
Last updated on .From the section Football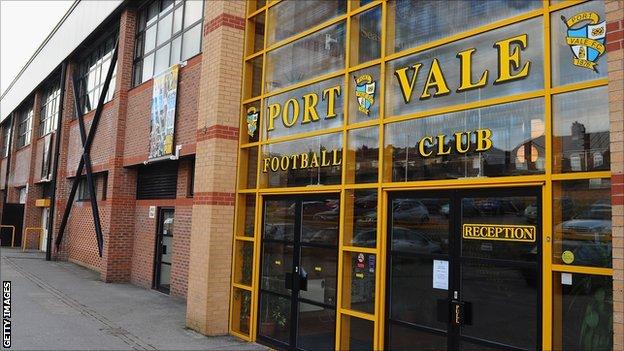 Prospective Port Vale owner Keith Ryder will not cancel season ticket price increases imposed by the club's administrators Begbies Traynor.
Ryder will consider lowering individual ticket prices, but will not overturn the decision to raise season ticket costs by 5%.
"Encouraging attendances at Vale Park has to be a priority for us," Ryder told the club's official website.
"We will review the prices for entry on a matchday into Vale Park."
Ryder will meet with club supporters on Wednesday evening to discuss issues regarding his proposed £1.4m takeover.
"Season tickets remain as the most cost-effective way to watch Port Vale in action for the 2012-13 campaign, which is why the cost of these will not change," he continued.
"However, it is imperative that [we] focus on attracting more supporters to the club on a matchday basis, which is why we will be looking at the cost of these tickets in all areas of the ground."
Ryder will also consider ways to boost dwindling attendances at the 19,000-capacity Vale Park.
"We will be looking at a number of initiatives to fill the ground, while being careful not to devalue the cost of a season ticket."
Concerns were raised last week that Ryder would cancel the lifetime tickets of at least 15 Vale supporters.
But he has assured those fans, who paid between £1,500 and £8,000 in 2005, that their commitment is safe.
"The fans who bought these tickets did so in good faith and, therefore, it is my intention to honour these deals.
"These tickets only relate to a small number of supporters, many of whom volunteer at the club for the benefit of Port Vale, so these contracts will stand."
For the promotion and relegation news as it happens in League One this Saturday - follow our new exclusive text commentary service Football League Live. It has fixtures, results, as-it-happens tables and regular reports from across the Football League. Saturday, 1400 BST, bbc.co.uk/sport