Paolo di Canio set to attend game despite bereavement
Last updated on .From the section Football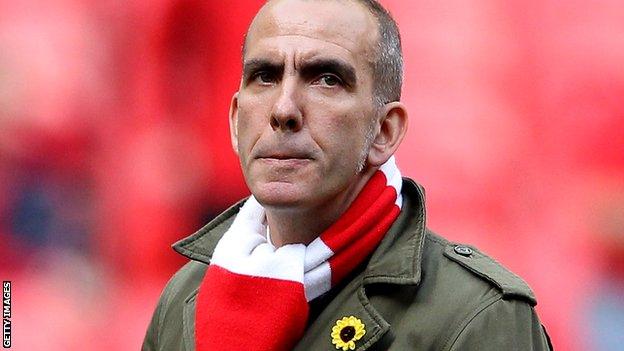 Swindon manager Paolo di Canio is expected to attend Tuesday's game with Aldershot despite the death of his mother last Friday.
Di Canio was present at the Robins' 1-0 win over Plymouth on Saturday but flew over to Italy straight after the game.
He is set to return in time to lead his side at the Recreation Ground, where a point would guarantee them promotion.
"I have no doubt he'll be there on Tuesday," Swindon chairman Jeremy Wray told BBC Wiltshire.
"I've told him to take as long as he wants but I'd bet my last pound he's back."
Di Canio has endured a difficult season off the pitch, having lost both his parents in the space of six months.
"His mother has been ill for a while and fortunately he got to see her in the week. Everyone's thoughts are with him, it's been incredibly tough," continued Wray.
Alan Connell's late winner against Argyle means Swindon can seal a place in League One next season if they get at least a draw against the Shots.
And if second-place Shrewsbury fail to win at home to Port Vale, Di Canio's side will go up as champions.
"Realistically we've done all we can to get promoted but I know Paolo won't let it stop there," added Wray. "He'll be totally focused on winning the last four games because he'll want to go up as champions.
"I've told him to take as long as he wants. To lose your parents in a short space of time is tough and people need to realise what he's going through and doing what he's done at the same time for us has been fantastic.
"He's put everything into this and at the time of his greatest success in his first year of management to achieve what he's achieved, to set that against the background of losing both his parents, he deserves our love and support."
For the promotion and relegation news as it happens in League Two this Saturday - follow our new exclusive text commentary service Football League Live. It has fixtures, results, as-it-happens tables and regular reports from across the Football League. Saturday, 1400 BST, bbc.co.uk/sport