Man Utd's Ashley Young is no diver - PFA's Clarke Carlisle
By Alistair Magowan
BBC Sport
Last updated on .From the section Football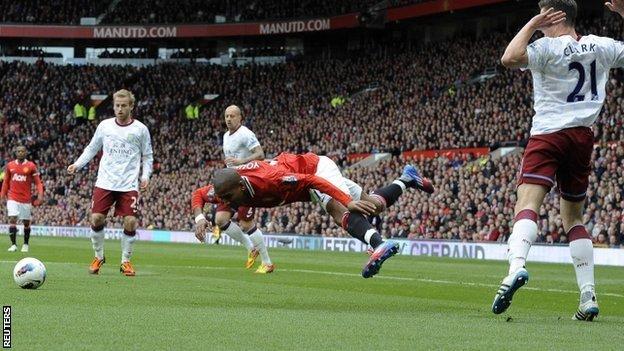 Professional Footballers' Association chairman Clarke Carlisle does not believe Ashley Young is a diver but says players need to be more honest.
Manchester United winger Young has been criticised for going down too easily against Aston Villa and QPR, earning penalties on both occasions.
But Carlisle, who was Young's team-mate at Watford, said: "I wouldn't say he is or has been prone to falling over.
"He is quick and slight so it doesn't take much contact to make him go over."
Carlisle did not see the latest incident at Old Trafford on Sunday, where Young fell despite minimal contact from Villa defender Ciaran Clark.
The England forward was criticised by Newcastle defender Ryan Taylor on Twitter and even Manchester United boss Sir Alex Ferguson admitted that Young went down "quite easily" to earn the seventh-minute spot-kick in his side's 4-0 victory.
The incident came a week after Young drew a penalty from QPR midfielder Shaun Derry when he fell after being pushed in the box.
Carlisle added: "The players' responsibilities are to be as honest as they possibly can but they also need protection from the referees to give the free-kicks or penalties when infringements occur."
And he believes English football would benefit if retrospective action were taken against "blatant" cases of diving, such as Andy Carroll's fall against Newcastle, although the Liverpool forward was booked by referee Martin Atkinson at the time.
In Scotland, Rangers midfielder Sone Aluko received a two-match ban for simulation following a 2-1 win over Dunfermline.
Northampton Town defender Carlisle said: "I'd like to see what the outcomes are over the course of the season [and] whether it was considered successful because there are very much grey areas.
"Like in the Ashley Young-Shaun Derry incident, there was contact, so it depends what the parameters are.
"If you are trying to judge whether there is sufficient contact, that's so hard to tell. Even in slow-motion replays you can't judge whether the contact on Ashley Young was enough to send him over. All you can see is that there was contact.
"If it was for blatant cases like [Liverpool's] Andy Carroll against Newcastle, where there was no contact whatsoever and he went down then yes, I think it would be good.
"Anything we can do to stamp diving out the game is progress, but you would have to establish the parameters and the protocol for reporting and investigating.
"We want an honest game and we want our players to give a good example to the young guys watching because everything we do on a Saturday is replicated by the kids on a Sunday morning.
"We don't want to breed a generation of young players who are actively looking to win free-kicks and penalties by diving."