Liverpool fans face train headache to reach Wembley for FA Cup final
Last updated on .From the section Football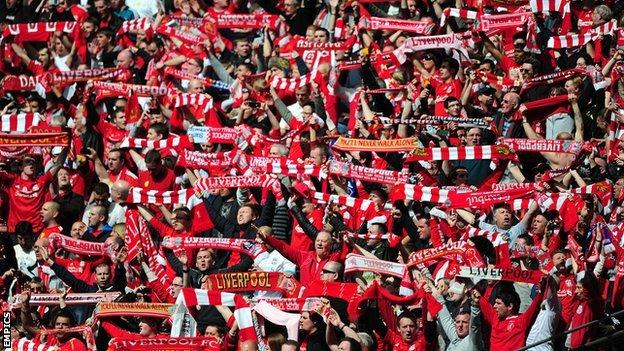 Liverpool fans travelling to Wembley for the FA Cup final on 5 May face more transport misery after it emerged that only three trains will run between Merseyside and London on the day.
Scheduled engineering work has prompted Virgin Trains to cancel all of its Lime Street to Euston services on the day - bar three before 0800 BST.
The Chelsea game kicks off at 1715.
Roy Bentham, of the Spirit of Shankly fans' group, said: "Once again, it's an inconvenience for Liverpool fans."
The travel officer added: "It was the same with the early kick-off in the semi-final, football fans are being put out again. There seems to be a lack of communication and consultation between the authorities and the fans.
"We ran six coaches to Wembley on Saturday and we are hoping to do the same for next month's final. We will try and accommodate as many fans as we can, and will look to increase the amount of coaches if needs be."
Liverpool and Everton fans overcame overcrowding problems on trains as they converged on London for the all-Merseyside FA Cup semi-final. Saturday's match kicked off at 1230 BST, forcing supporters to leave Merseyside before 0600.
Next month's engineering work means tens of thousands of Liverpool fans will have to seek alternative transport or use dozens of replacement bus services. One option will be for them to travel to Manchester or Chester, from where rail services will be operating as normal.
"It is unfortunate that the work coincides with the FA Cup final, but there is no possibility of us postponing the work," a Network Rail spokesman said. "This has been 18 months in the planning and when scheduling such work we would have had no idea of the date and times of such games and who would be playing in it."
Liverpool fans may also have problems travelling back from London if they choose to stay overnight. On Sunday, 6 May, engineering work near Milton Keynes mean Virgin will run a "restrictive" service.