Brighton manager Gus Poyet warns of summer clear-out
Last updated on .From the section Football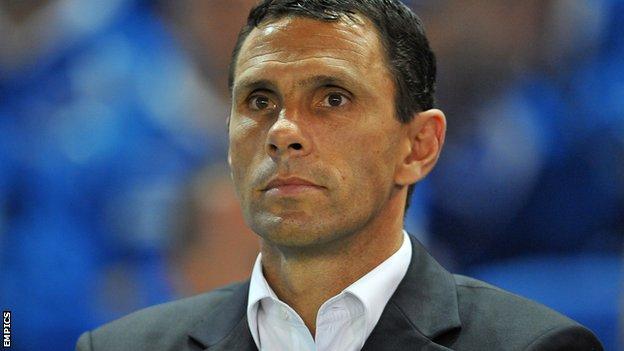 Brighton manager Gus Poyet says he may clear out some of his squad players at the end of the Championship season.
The Seagulls, who were promoted as League One champions last season, have slipped out of the play-off places after three straight defeats.
Poyet said: "I'm going to be a little bit more harsh this summer. There are going to be plenty of nos.
"I think we were very fair with the squad that won the league last year. Now comes the ugly part."
The Uruguayan added: "The ones that will be out will think I'm a bad manager or a bad person and I didn't give them a chance.
"Well, they had the chance. There are no excuses."
Poyet admits that following defeats by Burnley,Reading and West Ham, their hopes of finishing the campaign in the top six have faded significantly.
"It's nearly impossible," he continued.
"We lost the momentum. We were in a great situation but you cannot blame anyone.
"When we needed to be good, unfortunately we were not.
"We're still a decent Championship team. We need to keep improving. That's my aim."
For the promotion and relegation news as it happens in League One this Saturday - follow our new exclusive text commentary service Football League Live. It has fixtures, results, as-it-happens tables and regular reports from across the Football League. Saturday, 1400 BST, bbc.co.uk/sport