Tottenham Hotspur's Scott Parker says Spurs must finish fourth
Last updated on .From the section Football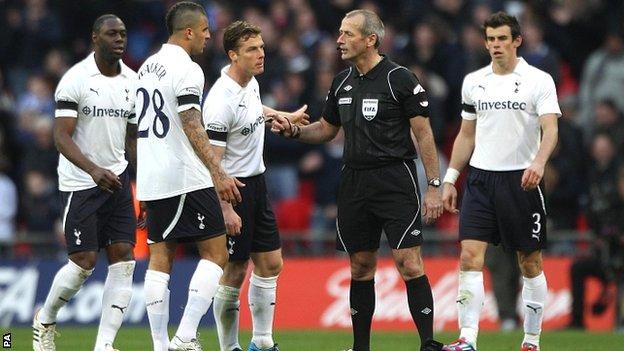 Tottenham midfielder Scott Parker says the team must qualify for the Champions League to justify their performances this season.
Spurs were 10 points clear in third place in February, but have been caught by Arsenal and are only ahead of fifth-placed Newcastle on goal difference.
"If we don't end up fourth we will have failed as a squad," Parker said.
"We've had a few hard-luck stories but we need to stay positive and grind out the rest of the season and get fourth."
One of those moments of misfortune occurred in Sunday's FA Cup semi-final at Wembley when Chelsea were awarded a goal that appeared not to cross the line, and went on to record a 5-1 victory.
Tottenham's season has threatened to disintegrate after some stylish play in the first part of the campaign and an unbeaten league run of 11 matches.
Another turning point in their season came during the league visit to Manchester City on 22 January, when a stamp by the already-booked Mario Balotelli on Parker went unpunished and, to compound matters, the Italian striker scored an injury-time penalty to give City a 3-2 victory.
Had Spurs won that match they would have been only two points behind then joint leaders City and Manchester United, but their form has dipped dramatically in the last two months.
Since Fabio Capello left as England boss on 8 February, and Tottenham manager Harry Redknapp was installed as the favourite to replace him, Spurs have won only two of nine Premier League matches.
"We've had a fantastic ride this year and we've dipped, that's obvious," Parker said. "Even our own manager is probably doubting us a little bit at the moment. Others (are), too, like our own fans.
"Has the speculation about the manager affected us? I wouldn't like to think it has.
"It's probably a combination of a few things: dip in form, a bit of tiredness, but we need to try to stay mentally strong and grind it out now.
"Something like the semi-final result might just kick us on. We can try to get that siege mentality.
"We need to stand up and be counted and show the fans and show the manager that we're going to try to end up in fourth place."