Norwich City confidence high despite thrashing, says Surman
Last updated on .From the section Football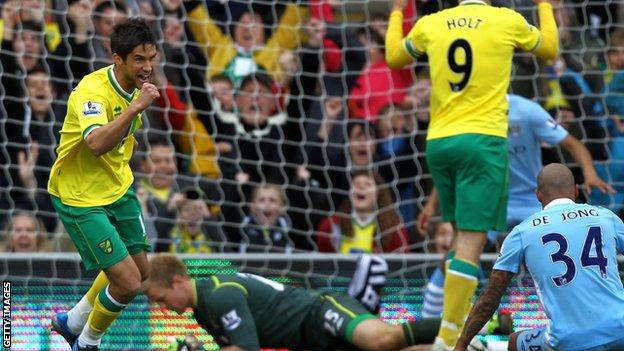 Norwich City midfielder Andrew Surman is confident his side's 6-1 collapse against Manchester City will not have a lasting affect on the squad.
The Canaries were blown away by four City goals in the last 20 minutes at Carrow Road.
Surman told BBC Radio Norfolk: "The season's been great so far. The result is obviously difficult to swallow.
"But the players will gather around. The spirit has always been great and confidence is still high."
He continued: "It's a bit of a knock but you've got to try and take some positives out of it.
"It's difficult to do that when it's 6-1 at home but we can take positives out of large parts of the game ad I'm sure it will keep us going for the rest of the season."
Norwich, 11th in the Premier League on 43 points, are safe from relegation in their first top-flight campaign for seven years barring a highly unlikely sequence of results for themselves and the teams currently near the foot of the table.
But Surman, who netted a consolation against City, says Saturday's thumping was not made more palatable because it was against a title-chasing side.
"You don't want to stand here and accept that," he added.
"We've come up against world class players every week this season, so we don't really want to accept that.
"But sometimes you have got to hold your hands up and say the finishing from their front two was different class.
"We've got to try and put this behind us and look to Blackburn next weekend now."