Bayern Munich hoping their name is on the cup
By Raphael Honigstein
German football expert
Last updated on .From the section Football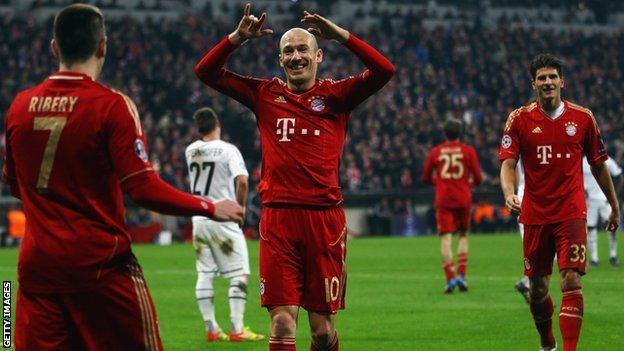 "A terrible week," was how Bayern Munich defender Holger Badstuber described the past few days on Saturday.
For a club which regards winning trophies as the be-all and end-all, losing out on the German championship at the beginning of April for a second year running was a traumatic event - the record title winners (22) have been accustomed to dominating the Bundesliga at least every other year since 1997.
The only good news after their sobering 1-0 away defeat to Borussia Dortmund, and Jürgen Klopp's men's subsequent 2-1 win at Schalke 04, was the fact the Bavarians were able to treat a drab 0-0 draw with Mainz 05 as a mere friendly.
"We knew it was all over," said sporting director Christian Nerlinger in light of a nine-point deficit at the top of the table before kick-off at the Allianz Arena.
Five key players were rested by Jupp Heynckes on Saturday, with one eye on Tuesday night's Champions League semi-final first leg against Real Madrid, and the irrelevant nature of the match was summed up by president Uli Hoeness, who briskly walked through the mixed zone for press muttering a single sentence: "Tuesday night, 20.45h. Important game."
That might well have been the understatement of the season. Bayern could have sold out the Allianz Arena (60,000 capacity) a few times over, with more than 150,000 people applying for the 30,000 tickets on general sale.
A European date with Real always excites the masses in the south of Germany, but this time there is an added sense of destiny with the final being hosted at Bayern's home stadium on 19 May.
As early as November 2010, Hoeness started stressing the importance attached to reaching the final, insisting it was "vital" Bayern would be involved.
In fact, Bayern supporters believe their name might be on the Champions League trophy, that the force of fate will carry them at least to a showdown on home soil against Barcelona or Chelsea and possibly beyond, to their fifth European triumph.
"I've told the players they have a once-in-a-lifetime opportunity to play this game in front of their own fans, in the way myself and Franz Beckenbauer were able to play the 1974 World Cup final in our home town of Munich too," said Hoeness.
No European Cup finalist has been able to enjoy home-stadium advantage in the past, but Bayern take plenty of encouragement from another set of statistics. Of their previous nine games in Munich, Madrid have lost eight and drawn one.
Bayern are the closest Real have come to facing an international bogey team. "La bestia negra", the black beast, they call the Bavarians in Spain.
Bayern's confidence might be a little more muted than usual in the wake of the Dortmund defeat - "maybe Real are favourites", wondered Dutch winger and Real old boy Arjen Robben - but José Mourinho's team are not quite held in the same, impossibly high regard as their La Liga rivals Barcelona.
"I saw them beat Gijón on Saturday, and I'd say they are a 'normal' top team," said Bayern honorary president Beckenbauer. "They don't have the lightness of Barcelona."
Leading goalscorer Mario Gomez (39 goals in 45 matches), too, thinks that Bayern have "enough potential to eliminate any team in the world over two legs".
Heynckes, who won the Champions League as Madrid's coach in 1998, has warned about a Real "attacking machine" which has yielded 107 league goals and called them an "excellent football team".
The build-up has differed from that of previous engagements over the last decade, however. Prudently-run Bayern used to style themselves as "anti-galacticos", a club who would never spend vast amounts of money to bring in a team of superstars.
On the pitch, this ideological debate used to be accompanied by plenty of bad blood and was often mirrored in the tactics: Bayern sought to negate the lack of individual quality with intensely committed performances of robust defending and unashamed counter-attacking football.
This Bayern team, one suspects, cannot really play that way. Under Dutch manager Louis van Gaal, who took charge in 2009, the side have played a possession-based attacking game that has, at times, left Germany international keeper Manuel Neuer and a back four severely exposed.
Under Heynckes, the team have shown more balance and conceded only 20 goals in 31 Bundesliga games, but it's still an inherently top-heavy side, with Robben, French winger Franck Ribéry, the roving Germany international Thomas Müller and Gomez their most potent weapons.
Bayern could well be tempted to start the versatile and elegant Toni Kroos ahead of Müller on Tuesday, in a move that would help Bastian Schweinsteiger.
The 27-year-old midfielder is Bayern's key player, but he has been slow to come back into form following two separate injuries. The fear is, without the structure and rhythm that he brings to Bayern's game, the gap between attack and defence will be bigger than usual.
Madrid could thus turn the tables on Bayern this time by sucking them in, then hitting them on the counter. That's precisely how a Mourinho-coached Inter beat them 2-0 in the 2010 Champions League final.
The Portuguese coach, whom Hoeness described as a "great, successful but also difficult manager", also knocked out Bayern in a quarter-final with Chelsea in 2005.
The destruction of Bayern's home-final dream would see him morph into the hosts' own bestia negra and make Badstuber wonder about his choice of words. The "terrible week" that started at Dortmund on Wednesday could not be quite over.