Jack Wilshere ruled out of Euro 2012 by ankle injury
Last updated on .From the section Football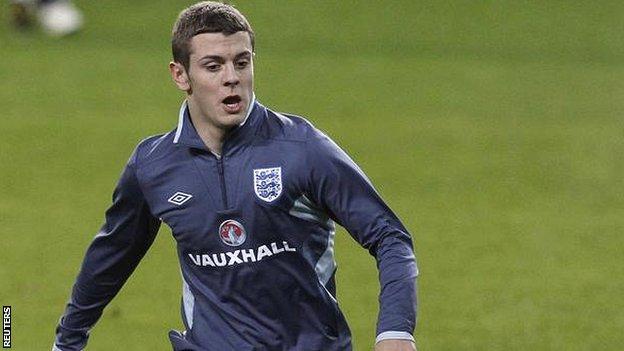 Arsenal's England midfielder Jack Wilshere has been ruled out for the rest of the season and will not be fit for Euro 2012.
Wilshere tweeted on Monday: "Gutted, sad, devastated.
"It's been a test mentally for me this season and it will continue to be tough until I am back out on the pitch."
He thanked fans for their support and added: "My ankle is good, I just have a few niggles and having been out so long I will not be fit enough for the Euros.
"I hope England can do well and bring home the cup! I will be watching and cheering the boys on like a proper England fan!"
Speaking about Wilshere after Arsenal's shock home defeat by Wigan, Gunners boss Arsene Wenger said: "He is not ready to practice today or next week. He makes progress, but slow progress.
"He will not be ready for the end of the season and not for the Euros. He is devastated, and you can understand that."
Wilshere has not played for Arsenal since suffering the injury in a friendly against New York Red Bulls on 31 July.
That followed a breakthrough season in which he made 49 appearances for the Gunners and five for England.
The European Championship starts in Poland on 8 June, with England playing their first game of the tournament against France on 11 June.
It was hoped Wilshere could feature in Arsenal's last three Premier League games against Stoke, Norwich and West Brom as preparation for possible involvement at Euro 2012.
But Wenger has always made it clear he would not let him play for England if there was a risk it could aggravate the injury.
"What kept him going until now was that he still felt if it was not with us, he will still have a good chance to go to the Euro, but that is over now as well," Wenger added.
"We had a chat about it this week. His progress is not quick enough."
Wenger also dismissed the prospect of Wilshere playing a part for Great Britain in the Olympic football tournament, which starts on 26 July and clashes with the opening of the next Premier League season.
"The Olympics would be the worst idea for him," the Frenchman said. "When a guy has not played for a year, he needs a good preparation and a slow preparation after to start the season.
"Once he is fit, he can think about the national team as well.
"It is not I do not want him to go to the Olympics, it is just that now he has other priorities than that."