Rangers administrator holds talks with two remaining bidders
By Alasdair Lamont and Keir Murray
BBC Scotland
Last updated on .From the section Football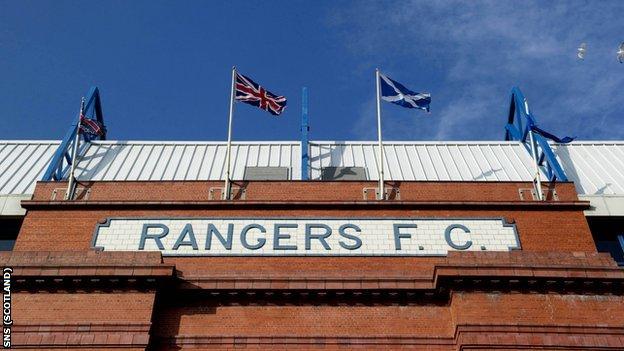 Rangers administrator Duff & Phelps has held further talks with the two bidders keen to buy the stricken club and hopes to name a preferred bidder this week.
Paul Murray's Blue Knights consortium cooled its interest on Monday after being unable to match the deal struck by Singaporean Bill Ng and Ticketus.
Ng, though, denies any such deal has been reached with the firm that financed Craig Whyte's takeover, but he remains hopeful that his bid will win.
Bill Miller is the other candidate.
The American's preference is for Rangers to emerge as a "newco" through liquidation rather than attempt to exit administration by way of a company voluntary agreement (CVA).
Paul Clark, of Duff & Phelps, issued a statement on Tuesday evening on the Rangers website.
He said: "We would like to inform all Rangers supporters that today discussions have been held between members of the administration team and the two remaining bidders in the sale process.
"A number of issues have been examined and we have made it clear to all those involved in the bidding that it is of paramount interest to the football club that a satisfactory deal be concluded without any further delay.
"It is our intention to announce a preferred bidder this week and we can assure all supporters of the Club that we are doing everything in our power to make that happen."
Ng, who heads a consortium, told BBC Scotland: "We have not agreed on any terms with Ticketus at the moment.
"I do not want to speculate on the reasons of Blue Knights' withdrawal but the apparent withdrawal from the bidding process by the Blue Knights means only that the chances of taking over increases for the two remaining bidders left in the process."
He would not comment on reports suggesting his consortium has offered £14m and more immediate repayment terms to Ticketus.
The Blue Knights, with Ticketus as a partner, had appeared to be front-runner to take the club over.
It had hoped to be named preferred bidder on Friday and was asked to provide a £500,000 non-refundable deposit for exclusivity.
Murray told BBC Scotland that Ticketus was not prepared to provide this cash for the administrators on Friday and over the weekend he said it became clear that Ticketus had agreed a "substantially" better deal with Ng's group of investors.
"We stand ready to complete our offer of 4 April which included a deal in principle with Ticketus. We still believe that a partnership with Ticketus represents the best opportunity of the club exiting administration via a CVA," said Murray.
With the Blue Knights' withdrawal, perhaps temporarily, it leaves Ng and Miller to fight it out for control of the Glasgow club.
"The best interest for Rangers will be the best bid forward; we accept this as a matter of fact," said Ng.
"I do not have the facts of what Mr Bill Miller has proposed. I only know what I can do and what my plans are for the club, if I am successful.
"I believe it is more important for me to stay focused at this point of time and prepare for our ground works, regardless of the result of the announcement by the administrators."
Meanwhile, Sale Sharks owner Brian Kennedy has reiterated his claim that he may re-enter the bidding process should the club face liquidation, rather than an exit from administration through a CVA.
"I do not want to distract the time-critical process of appointing preferred bidders," he said.
"However, should this fall through with the effect of endangering the existence of RFC, I would reconsider my position."
Ally McCoist, the Rangers manager, is keen for Duff & Phelps to announce soon which party has preferred bidder status.
He told the club's website: "The uncertainty and the lack of clarity about the future is obviously really concerning and worrying for everyone.
"I'm really concerned and really worried because we have a lot of planning to do."