England can still shine at Euro 2012, says Tony Woodcock
By Marc Higginson
BBC Sport
Last updated on .From the section Football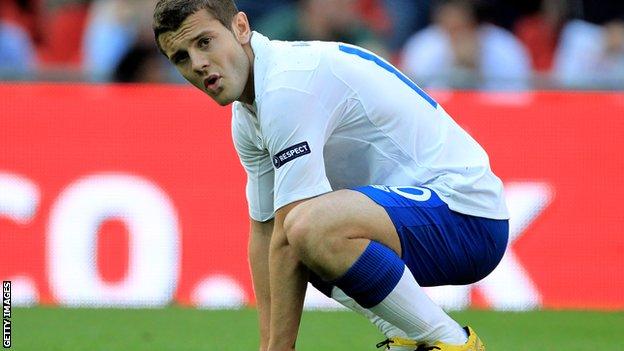 Ex-England striker Tony Woodcock says the national team can be successful at this summer's European Championship, despite still not having a manager.
"Maybe this is the right time, with the pressure off a little bit, to just go out there and play," Woodcock said.
"There is hope - there will be a lot of teams who will not relish playing against England."
The tournament, in Poland and Ukraine, kicks off in 52 days' time and the Football Association has been urged to name Fabio Capello's successor as soon as possible.
It has been a less than ideal build-up for the team, who suffered further bad news on Monday when Wilshere, who has been injured for most of the season, was ruled out of the tournament.
Woodcock, who played for England in Euro 1980, drew parallels with the Denmark side of 1992, who won the tournament despite being a late replacement for war-torn Yugoslavia, and believes Chelsea's recent good form is a good sign ahead of the summer.
"I have been encouraged with the way Chelsea have been playing in the last few weeks, where the so-called experienced players [John Terry, Ashley Cole and Frank Lampard] look to be refreshed and are up for the challenge in the Champions League," said Woodcock, who scored 16 goals in 42 appearances for his country.
"If they can carry that through to the summer it will be good.
"At the moment there is doom and gloom, but it's a case of having a little bit of luck, getting off to a good start, getting the confidence flying and, if that happens, players tend to forget the long season they have had.
"There is always a chance."
Former Arsenal forward Woodcock is also relieved Wilshere will not be rushed back for the tournament, after failing to recover from an ankle injury in time.
"It is a wise decision that he is not being thrown into a tournament like this when he hasn't played all season," said Woodcock.
"Arsenal pay his wages, and want him to play for them for the next 10 years, and it would be a bit irresponsible to send somebody off to a tournament if they have been sidelined with an injury for all this time.
"Jack is going to be an asset to England and Arsenal, a fantastic player, but not at any cost.
"This is a long-term project with Jack Wilshere, and not a sprint to get him involved in a tournament."