Botswana coach Tshosane 'not 100% happy' despite new deal
By Mtokozisi Dube
BBC Sport, Gaborone
Last updated on .From the section Football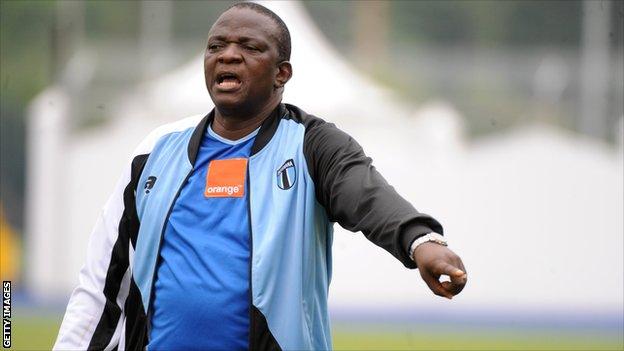 Botswana coach Stanley Tshosane has revealed he is not "happy with everything" despite signing a new three-year deal, keeping him in the job until 2015.
While Tshosane is thought to have doubled his salary to $9000 a month, players' bonuses remain an issue.
He said: "I signed a new three-year deal, but that does not necessarily mean I'm happy with everything.
"I'm not 100% satisfied - some issues I raised are yet to be resolved."
Tshosane and the Botswana Football Association started contract talks before the Africa Cup of Nations finals earlier this year but the veteran coach stalled, claiming the main problem concerned payments to the players.
"I think the most important thing for any coach is to have a group of happy players whose welfare is a top priority for the association," he told BBC Sport.
"But that is still a cause for concern because, as I speak, players are protesting.
"They are unhappy about the issue of bonuses and I should be meeting the technical director over the issue."
The Zebras are presently at a training camp in Gaborone preparing for the Africa Cup of Nations 2013 qualifiers.
BFA president, David Fani, said in a media statement that Tshosane's new contract was offerd as a result of his excellent record with the Zebras.
Under Tshosane, Botswana qualified for the Africa Cup Of Nations finals for the first time, although they last all three of their matches at the tournament in Equatorial Guinea and Gabon.
"In the light of the Zebras unprecedented achievements, the BFA believes that the offer of another contract to Tshosane is well deserved," said Fani.
"During the 36 months contract period, the BFA will support Tshosane to guide the Zebras through the qualifying matches for the Africa Cup of Nations South Africa in 2103 and Libya in 2015 as well as the 2104 Fifa World Cup in Brazil."