Rangers owner Craig Whyte's lawyers face damages claim

By Chris McLaughlin
Senior Football Reporter, BBC Scotland
Last updated on .From the section Football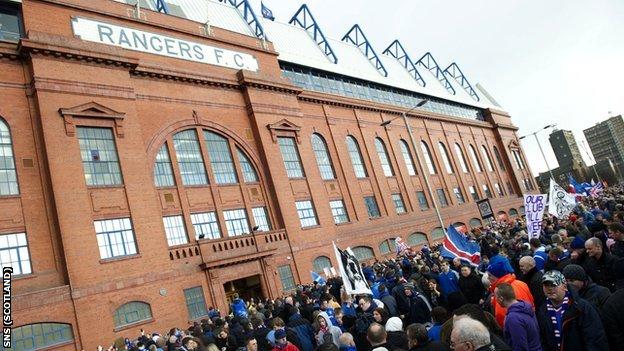 The legal firm appointed by Craig Whyte to conduct his takeover of Rangers is facing damages claims of at least £25m from the club's administrators.
Duff & Phelps is claiming the cash from legal firm Collyer Bristow over its role in Rangers' administration.
Additional claims relate to Collyer Bristow's involvement in Whyte's May 2011 takeover and the deal's structure.
But the firm has branded Duff & Phelps' claims "highly speculative" and has pledged to "vigorously defend" them.
Administrators Paul Clark and David Whitehouse allege that Collyer Bristow breached its rights and obligations when effecting the takeover when Whyte purchased the club from Sir David Murray for £1.
Duff & Phelps, which has been running the Scottish Premier League club since 14 February, has accused the firm of professional negligence and breach of fiduciary duty.
Clark said: "We can confirm that we have instigated legal proceedings against Collyer Bristow, the former lawyers of the Club, and The Rangers FC Group Limited in the High Court in London for substantial damages suffered by Rangers Football Club."
A spokesman for Collyer Bristow said: "As we have previously stated, it is our intention to contest all claims brought by the administrators in the strongest possible terms and this remains our position."
Gary Withey, who was a partner at Collyer Bristow and advised Whyte on the takeover, became Rangers secretary but left Ibrox in early March.
The move comes on the same day that Rangers manager Ally McCoist urged the administrators to name a preferred bidder.
"Obviously, like all Rangers fans, I think the sooner the preferred bidder status is announced would be a big, big step in the right direction," he said.
"The uncertainty and the lack of clarity about the future is obviously really concerning and worrying for everyone, be that players, staff or fans."
McCoist was responding to news that Paul Murray's Blue Knights consortium had stepped back from the bidding process, leaving Singaporean Bill Ng's group of businessmen and American Bill Miller to compete to take over the club.
Clark stated on Tuesday evening that the administrators had held further discussions with those two parties during the day and that he and his colleagues were working hard to be able to name the preferred bidder this week.