Brighton's position in the table is fair, says Dicker
Last updated on .From the section Football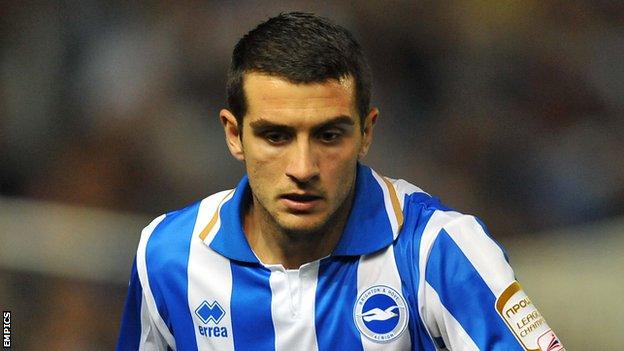 Brighton and Hove Albion midfielder Gary Dicker says the club should not be too downhearted at missing out on the Championship play-off places.
The 25-year-old told BBC Sussex: "We had such a good start but we are where we are, and it's where we deserve to be over the course of the season.
"There are bigger teams in the league than us."
He added: "It's a tough old league and there are a lot of teams that have come down and struggled to get out."
Dicker has now played in Brighton's last four games having missed five months of the season with a fractured fibula, and says he is feeling no ill-effects following his time out of the side.
"I'm glad to be back playing because it was a long time out for me," the Irishman added.
"It's quite tough sitting on the sidelines and not being involved. The medical team have done a great job with me.
"I'm delighted to be back, but you'd rather win football games."
For the promotion and relegation news as it happens in the Championship this Saturday - follow our new exclusive text commentary service Football League Live. It has fixtures, results, as-it-happens tables and regular reports from across the Football League. Saturday, 1400 BST, bbc.co.uk/sport