Crystal Palace have a bright future, says Freedman
Last updated on .From the section Football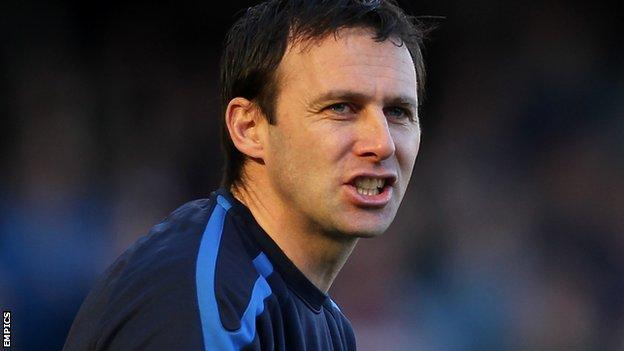 Crystal Palace boss Dougie Freedman believes his side have a good future if they can keep hold of their star players this summer.
Freedman told BBC London 94.9: "I'm pleased with what I'm seeing. Looking forward, there are some young and exciting players.
"With the players we've got on the pitch, we've got a bright future."
The Selhurst Park outfit are currently on a run of seven games without a win, but Freedman is encouraged by recent showings from his side.
"I've never worried too much about results - I've worried about performances," he added.
"I've felt that over the season our performances have merited a little bit better than where we are in the division.
"If we add one or two people in the summer and get stronger again as a club and as a team, I'll be happy with that.
"There are too many dreamers out there, and we've got to be realistic in terms of where we are and what we're trying to do.
"Right now, everything's going to plan."
For the promotion and relegation news as it happens in the Championship this Saturday - follow our new exclusive text commentary service Football League Live. It has fixtures, results, as-it-happens tables and regular reports from across the Football League. Saturday, 1400 BST, bbc.co.uk/sport