Lack of goals may have cost Middlesbrough - Mowbray
Last updated on .From the section Football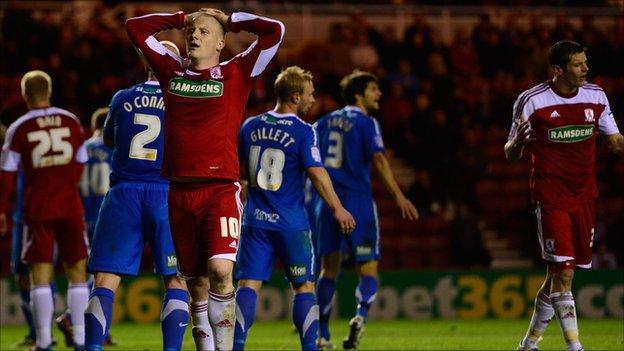 Middlesbrough boss Tony Mowbray believes a lack of goals will be the deciding factor if they miss out on the Championship play-offs this season.
"We just haven't scored enough goals," Mowbray told BBC Tees.
"Other teams in the top half have over 70 but we've scored 49 and those are the harsh facts, the harsh reality."
He added: "We have to put that right moving forward, and try to do that in the summer if we can."
If Mowbray's side are to grab a place in the play-offs, they realistically need either Cardiff or Blackpool to get no more than a single point from their final two games.
In addition Boro must beat automatic promotion hopefuls Southampton on Saturday, and then claim three points from their clash with Watford on the league's final day.
"We've got two games to go, it's been a long season," Mowbray added.
"Southampton have a chance on Saturday to guarantee promotion, so I'm hearing they're bringing a lot of fans and we've got to concentrate and make life difficult.
"The time for talking is out on the pitch.
"They don't need me to give them any rallying cries, footballers are well paid individuals who have to go out and get the job done.
"Yes you can give them tactics, motivation and drive but it's down to them to compete, in this league matches are tight and we need to take chances when they come along."
For the promotion and relegation news as it happens in the Championship this Saturday - follow our new exclusive text commentary service Football League Live. It has fixtures, results, as-it-happens tables and regular reports from across the Football League. Saturday, 1400 BST, bbc.co.uk/sport