Jose Mourinho: Real Madrid can reach Champions League final
Last updated on .From the section Football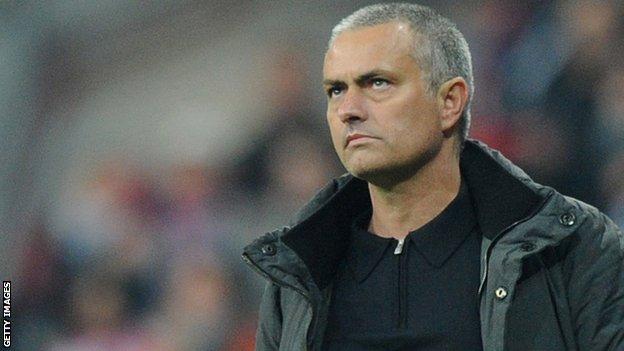 Real Madrid coach Jose Mourinho says his side can still reach the Champions League final despite their semi-final first-leg defeat at Bayern Munich.
Germany striker Mario Gomez scored an 88th-minute winner to give Bayern a 2-1 advantage going into the return match.
"We have the second leg to come and it's not like we have to make a historical comeback, what we have to do is very achievable," said Mourinho.
"If we win at home we are there. I am optimistic we can play in the final."
France winger Franck Ribery gave Bayern an early lead, only for Real's Mesut Ozil to equalise before Gomez's winning strike.
Mourinho was critical of referee Howard Webb who he claimed had made a mistake in awarding Bayern's opening goal.
"We had the feeling that one team could get through with a lucky punch and they made it," said Mourinho.
"Their first goal was offside, that is clear. I accept the referee's decision, but he shouldn't have given the goal.
"I think a more justified result would have been a draw but that's football. Whoever scores goals wins games, simple as that. "
Bayern coach Jupp Heynckes was delighted with the performance as his side preserved their remarkable record of having never lost at home to Madrid, with nine wins and a draw in their 10 meetings in Munich since 1976.
"We deserved to win, it was a hard bit of work. I had said we would play with passion for 90 minutes and the players did just that, they gave their all," said Heynckes.
"I must pay a great compliment to my team, they ran very hard and played a great game."
Bayern and Madrid are competing for a place in the final against either holders Barcelona or Mourinho's old club Chelsea which will be held at Bayern's own ground, the Allianz Arena, on 19 May.
Mourinho is aiming to take Madrid to their first Champions League final since 2001-02, when they beat Bayer Leverkusen at Hampden Park to lift the trophy.