Crawley Town's Claude Davis wants second-place finish
Last updated on .From the section Football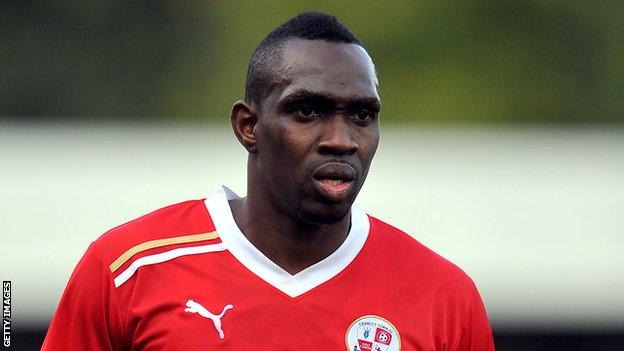 Crawley Town defender Claude Davis believes the side must try to reach second place in League Two to ensure they achieve promotion.
The Reds currently lie third in the table, ahead of fourth-placed Torquay on goal difference.
Davis told BBC Sussex: "Everything depends on us and no-one else. But if you accept where you are, you always fall short.
"We should aim for second so we don't have to look over our shoulders."
He added: "As a football player, you have to focus on what you have to do."
The Jamaica international returned to the side in the 3-1 win over Northampton on Tuesday after completing his four-game suspension for his role in the post-match brawl at Bradford last month.
"It's great to be back playing," he added.
"I was sick of sitting in the stands, watching the game and kicking myself.
"But credit to the lads, they didn't lose a game when I was out. They've been really good with my absence, the skipper [Pablo Mills] and Kyle [McFadzean] out as well."
For the promotion and relegation news as it happens in the Championship this Saturday - follow our new exclusive text commentary service Football League Live. It has fixtures, results, as-it-happens tables and regular reports from across the Football League. Saturday, 1400 BST, bbc.co.uk/sport