Chelsea's discipline against Barcelona should be applauded

By Mark Lawrenson
Football analyst
Last updated on .From the section Football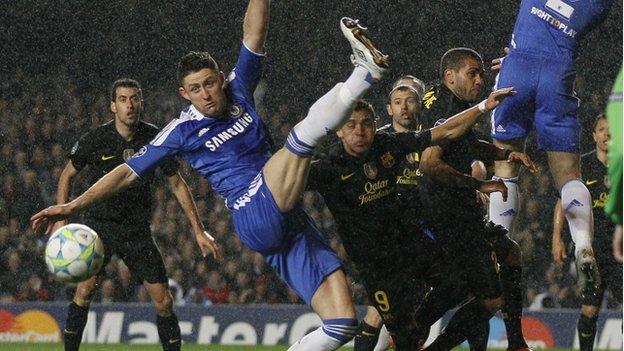 I still make Barcelona favourites to progress to the Champions League final, despite Chelsea winning the first leg of their semi-final tie 1-0 at Stamford Bridge.
It was a great result for Chelsea on Wednesday night but we have to be totally and brutally honest about it.
In the first 20 minutes Chelsea had an awful lot of luck with Barca striker Alexis Sanchez clipping the crossbar and the two missed chances from Cesc Fabregas, including the one that was cleared off the line by Ashley Cole. And then, late on, Barcelona hit the post through substitute Pedro.
But Chelsea were playing the best team in world and you are always going to have a rough period in games against them.
You have to applaud Chelsea's discipline under immense pressure. They stayed on their feet and in position - and when Barcelona did get through them Chelsea reacted very quickly.
If former boss Jose Mourinho had been in charge of Chelsea he would be getting massive praise for their performance.
You also have to praise Chelsea's grit and professionalism. That was the only way that Chelsea could play at Stamford Bridge to get the result that they wanted.
Barcelona are really good at playing in little triangles and that didn't happen.
Their coach Pep Guardiola will be miffed not so much that his side has been beaten but that they didn't get the away goal.
But it is worth stressing that from a coaching point of view Chelsea will be absolutely delighted. Chelsea's players carried out Roberto di Matteo's instructions exactly.
Central defender Gary Cahill started a bit nervously and Barca got in behind him on two, maybe three, occasions, but he was like a different player in the second half. He read the game a lot better and his interceptions were outstanding.
John Terry in the last six weeks has been great. Everyone played their part.
Chelsea never opened up in the second half. Generally, whenever Barcelona players got the ball all they saw was a sea of blue. It was a really disciplined performance and very professional.
It will be interesting to see if goalscorer Didier Drogba plays in the same way in the Nou Camp.
He had his preening head on at Stamford Bridge. By the fourth time he went down, the referee had totally had enough.
The goal was the best of Drogba, but we also saw the worst of him. It's a long time since I've seen him be that blatant in terms of going over and being injured.
If you portray yourself to be a strong player who knocks others around, it doesn't help you when you keep falling over all the time. It was a great night for Chelsea but we must not excuse Drogba's behaviour.
Next Tuesday in Spain I think Barcelona will create a whole host of chances. Even on a bad day they create chances!
There will be more space for Lionel Messi on Barcelona's big pitch at the Nou Camp, which in terms of the tie could be absolutely crucial.
It will be a very difficult task for Chelsea in Spain but if Di Matteo's side can just pinch a goal, then Barcelona have got to score three.